Small Fires Show PG&E's Power Lines May Still Be Sparking Blazes
(Bloomberg) -- PG&E Corp., the California utility giant that went bankrupt in January after its power lines ignited deadly wildfires, said Monday that its equipment is being investigated as the potential causes of two small fires that broke out Sunday in Northern California.
In Lafayette, east of San Francisco, county fire officials are investigating a fallen PG&E transformer and a conductor that came into contact with a loose communication cable as the possible ignition sources of a blaze that forced evacuations, destroyed the Lafayette Tennis Club and damaged a home. Milpitas is also probing a fallen PG&E wire as the cause of a fire that destroyed one house and damaged others.
PG&E disclosed the investigations in filings with state utility regulators. Fires are breaking out even as the utility takes unprecedented measures to keep its power lines from igniting blazes. The company has cut off power to hundreds of thousands of customers three times this month as high winds threatened to knock down equipment. And PG&E is warning that it may carry out yet another mass blackout on Tuesday.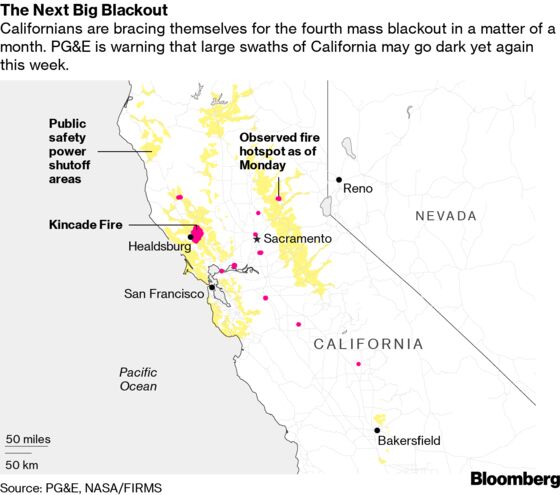 The company's equipment was blamed for igniting catastrophic blazes that devastated Northern California in 2017 and 2018, saddled the utility with $30 billion in liabilities and forced it to file for Chapter 11.