Small-Cap Biotech Surges Almost 350% on Cancer-Drug Trial Data
(Bloomberg) -- Small-cap drug developer Five Prime Therapeutics Inc. is on track to post one of this year's biggest daily stock moves after reporting promising data from a mid-stage cancer study.
The South San Francisco, California-based biotech firm skyrocketed as much as 349% after a combination of its drug and chemotherapy helped some patients keep their stomach cancer at bay for longer than those receiving just chemotherapy. Should this rally hold, it would be the third biggest single-day move on the New York Stock Exchange and Nasdaq Exchange, according to data compiled by Bloomberg.
Its stock-surge trails a pair of micro-caps with SPI Energy Co. jumping more than 1,200% on Sept. 23 and Weidai Ltd.'s 527% rally last month.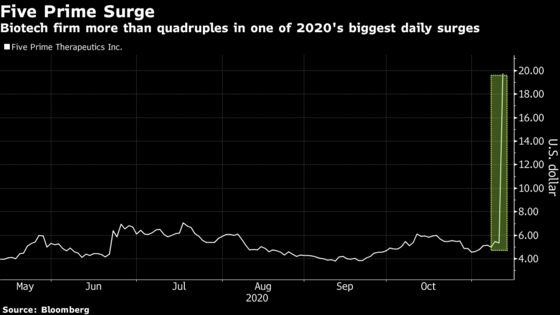 While analysts hailed Five Prime's data as a surprising win, bearish options tied to the stock crashing back to reality were among the most active U.S.-listed contracts. More than 32,000 November $7.50 puts were traded at an average price of 23 cents.
"The data clearly establish a benefit of bemarituzumab in terms of progression free survival (PFS) and overall survival (OS), provide valuable information in terms of effect size for sizing a potential phase 3 study, and are sufficient to attract large Pharma interest," said Wells Fargo analyst Jim Birchenough, who upgraded the stock to the equivalent of a buy rating and gave it street-high share price target of $34. At its peak today, Five Prime's share price was at $24.