Flow Traders Income Falls After Another Bad Quarter for ETFs
(Bloomberg) -- Flow Traders NV posted a quarter-on-quarter decline in net trading income as Europe's biggest market maker of exchange-traded funds struggled with reduced volumes in every part of the world.
The Dutch speed trader also reported a 10 percent quarter-on-quarter drop in the value of ETFs it traded to 184 billion euros ($211 billion), according to its statement Thursday. Trading volumes in the overall ETF market slipped 12 percent to 4.87 trillion euros. Europe saw the biggest decline, with overall value traded sliding 17 percent.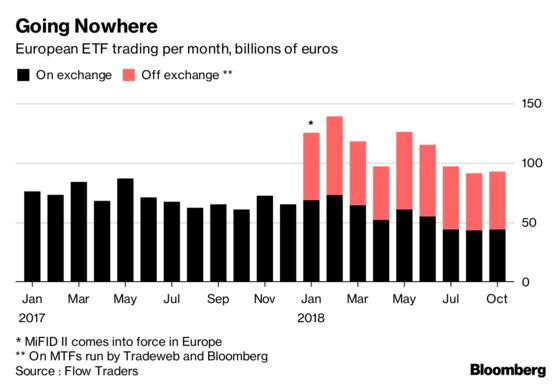 The U.S. was mostly to blame for Flow Traders' net trading income falling short of the average analyst estimate, according to ING Groep NV's Albert Ploegh. The company intensified its efforts to win more trades in the U.S. two years ago, but trading income from the Americas in the third quarter was 45 percent lower than in the previous three months, Ploegh wrote in a note, citing lower realized volatility.
Flow Traders signed up more direct counterparties -- big investors such as pension funds and insurance companies -- in both Europe and the U.S. in the quarter, but that only helps the bottom line if they increase trading volumes.
Chief Financial Officer Marcel Jongmans said that fixed costs increased as the firm started training recent graduates in trading and technology. The third quarter is the algorithmic trader's busiest time of the year for recruitment.
The news came a month after Co-Chief Executive Officer Sjoerd Rietberg unexpectedly announced that he will leave the firm, completing a five-year stint that has seen the company emerge as a major player in the industry.
Earnings before interest, taxes, depreciation and amortization and the Ebitda margin also fell short of the average analyst estimate.
Flow Traders was up 0.8 percent at 27 euros at 10:05 a.m. in Amsterdam trading, wiping out earlier declines. The shares have gained 35 percent this year.