Slovenia's Top Fuel Retailer Turns to Green Power in Virus Hedge
(Bloomberg) -- Slovenian fuel retailer Petrol DD, which runs the largest chain of filling stations in the Alpine country, is turning to renewable energy as a drop in gasoline prices during the coronavirus pandemic is spurring it to seek growth opportunities outside the oil industry.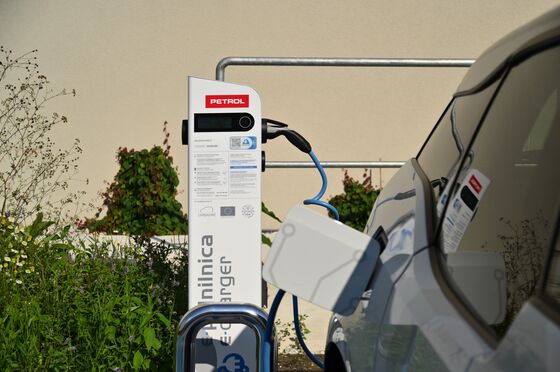 Slovenia's biggest company by revenue is making electric energy the cornerstone of a new five-year strategy that also includes developing solar and wind technology, said management board members Matija Bitenc and Joze Bajuk. It's planning to invest 700 million euros ($842 million) in that period, while profit is targeted to grow more than 70% to 180 million euros.
"We don't just sell oil anymore, we have become an energy company," said Bitenc, who's in charge of finances, information and risk on Petrol's board, in a joint online interview with his colleague. "With electricity, we are forming a vertical connection from production to sales to the end customer," added Bajuk, the head of energy and solutions.
To increase earnings in a crowded western Balkan retail fuel market, Petrol is building a second wind farm in neighboring Croatia and is seeking partners in electricity production to diversify revenue sources. The refocus mirrors moves by competitors such as Hungary's Mol Nyrt. to retool for the growing electric car market and react to efforts by the European Union to slash greenhouse emissions by 2030.
Renewable 'Proliferation'
Interest in luring e-car battery production investments, such as in Serbia, is proceeding alongside efforts by countries like Poland to increase wind farm construction and foster solar power, is gaining ground across the continent.
"The pandemic will accelerate the proliferation of renewable-energy development, reflecting the expectations for lower oil-demand growth," said Salih Yilmaz, an energy analyst at Bloomberg Intelligence.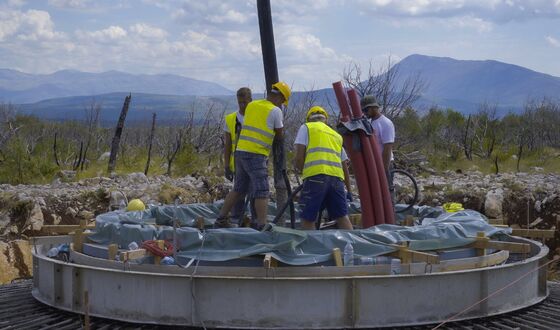 Fuel demand, which took a "meteoric hit from the pandemic," will gradually recover and companies such as OMV AG, Mol and Petrol will improve retail margins. Even so, investors will increasingly pressure oil industry companies to address environmental concerns, pushing them to allocate more spending for greener technologies, Yilmaz said.
Shares in Petrol, the second-most weighted stock on the Ljubljana exchange, have grown 14% since Oct. 29, closing Friday at 341 euros and recouping from an 28-day 11% drop that began on Oct. 1.
"Becoming a regional player allows us to be more resilient to shocks," said Bitenc.
Petrol is bypassing international financing by using its own cash and local bank facilities to fund projects that are pushed by growing energy demand and changing technologies. With electric cars becoming a reality and industrial companies replacing old technologies, Petrol is also also looking to help spur a change in homeowners' view of energy, such as replacing heating oil for heat pumps and using household solar power.
For now, oil sales will remain the main driver of revenue for at least the next five years, the managers said. The company wants to raise earnings before interest, taxes, depreciation and amortization to 336 million euros by 2025, compared with an Ebitda of 197 million euros in 2019
Petrol recently signed a contract to acquire Croatian fuel retailer Crodux Derivati Dva to expand its retail network and increase its market share to 23% from 13%. It's also eyeing markets in Bosnia Herzegovina and Serbia, both former Yugoslav Federation partners, where further consolidation is expected.
"We are not satisfied with our current position in Serbia, we are actively looking for new opportunities," said Bitenc, who doesn't see a major takeover in the near future, at least not before Petrol integrates Crodux into the group.
Like other oil companies, Petrol has suffered during the Covid-19 pandemic as the government imposed stringency measures that limited travel, causing net income to shrink by 49% in the first nine months of 2020. It was shielded somewhat from the industry's problems because Petrol stopped refining fuels in the early 2000s, avoiding the squeezed margins facing competitors.
"Petrol differs from other big players in the region as we are more diversified in terms of our product mix and don't have our own refinery, which plays into our hands as oil prices remain low and regulatory pressures increase," Bitenc said.