Sleepy Copper ETF Surges to $1.7 Billion in Assets as EV Bets Boom
(Bloomberg) -- A once-sleepy copper fund is defying the stock market's miserable month as investors bet the base metal will be a big winner amid the shift to renewables and a potential boom in electric vehicles.
The Global X Copper Miners ETF (ticker COPX) saw a record $196.1 million inflow during Tuesday's broader selloff on inflation concerns, increasing the fund's assets 13% to an all-time high of $1.68 billion.
That brings net inflows for the fund -- which tracks copper mining equities rather than being physically-backed by the metal itself -- to $1.48 billion for the year, up from less than $100 million in 2020.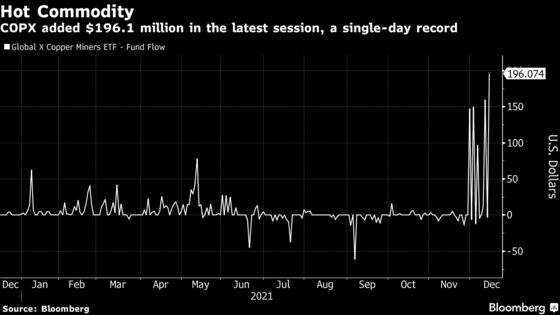 Copper is labeled a "green metal" due to the low levels of carbon emissions related to its mining, transport, purification and disposal, driving up orders as the push for decarbonization grows stronger. Demand for the metal has accelerated thanks to the increasing popularity of electric vehicles and overhaul of the world's electrical grid, according to Bloomberg Intelligence analyst Eric Balchunas. 
This year, rules were finally set for governing global carbon markets during the United Nations COP 26 climate conference. Additionally, the U.S. passed a $1 trillion infrastructure bill last month, a portion of which will help accelerate the growth of the EV ecosystem. 
"Fundamentally, we believe copper is very well placed; we have a situation where we're entering a new era of copper demand, which includes the massive amount of copper that's used in decarbonization, and that transition is really just starting, so we've got really strong growth and demand expectations and hopefully limitations on supply," said Kathleen Quirk, Freeport-McMoRan Inc. president and CFO, in a Citi webinar.
Strained supplies of the metal, however, may impact the speed at which some new projects are built.
"As you look forward, there's really not enough copper supply in the pipeline," Quirk said. "It takes five, 10 years and sometimes longer to bring on new supplies."
Following are the COPX's biggest holdings as of Dec. 13:
| Name | Ticker | Position | Value (USD) | Change in Position | % of Total Asset Value |
| --- | --- | --- | --- | --- | --- |
| Oz Minerals Ltd. | OZL AU Equity | 4.25 million | 83.1 million | -8,296 | 5.6 |
| Sumitomo Metal Mining Co. | 5713 JP Equity | 2.03 million | 80.1 million | -3,960 | 5.3 |
| BHP Group Ltd. | BHP AU Equity | 2.73 million | 79.6 million | -5,344 | 5.3 |
| Lundin Mining Corp. | LUN CN Equity | 9.02 million | 77.8 million | -17,672 | 5.2 |
| Boliden AB | BOL SS Equity | 2.07 million | 77.1 million | -4,040 | 5.1 |
| Freeport-McMoRan Inc. | FCX US Equity | 2.04 million | 76.6 million | -3,992 | 5.1 |
| Grupo Mexico SAB de CV | GMEXICOB MM Equity | 17.2 million | 73.7 million | -33,640 | 4.9 |
| Ivanhoe Mines Ltd. | IVN CN Equity | 9.08 million | 72.8 million | -17,792 | 4.9 |
| Teck Resources Ltd. | TECK/B CN Equity | 2.7 million | 72.8 million | -5,264 | 4.9 |
| First Quantum Minerals Ltd. | FM CN Equity | 3.25 million | 72.2 million | -6,376 | 4.8 |