Sky Soars Toward Comcast's Winning Offer of $39 Billion for Sky
(Bloomberg) -- Sky Plc shares jumped as much as 8.7 percent in London, gracing the per-share offer from Comcast Corp. that beat a competitor to acquire the British broadcaster with a knockout $39 billion bid.
Sky traded at 17.22 pounds as of 8:18 a.m. in London, just shy of the 17.28 pound per-share offer from Comcast, signaling investor optimism with the bid. Comcast trumped by 10 percent a rival proposal from 21st Century Fox Inc., backed by Walt Disney Co., in a Saturday auction overseen by U.K. regulators. That all but assures that investors in London-based Sky will tender their shares to the Philadelphia-based cable carrier.
Here's What the Street Is Saying After Comcast Wins Sky Auction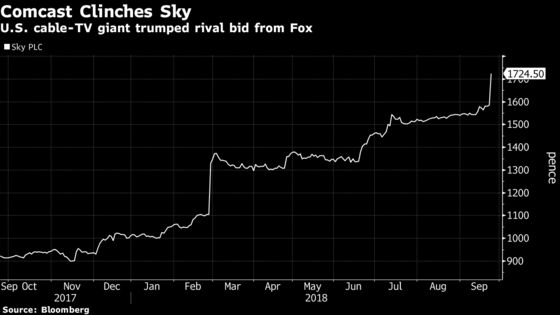 Comcast's emergence as the winner helps put an end to months of uncertainty over the future ownership of Europe's largest satellite carrier, which Rupert Murdoch founded in 1989. Sky shareholders have until Oct. 11 to accept, but its independent directors have already recommended the deal, the biggest British takeover so far this year. Fox is selling its 39 percent stake to Disney as part of a $71 billion deal struck last year.
"With the independent directors of Sky backing the deal and the premium to the share price close on Friday, it is almost inevitable that non-Fox shareholders will take the offer," Ian Whittaker, an analyst at Liberum, said in a note to clients Monday.
Fox could decide to sell the stake to Comcast and cash in about 11.6 billion pounds ($15.2 billion), a move that would help its rival rapidly reach its acceptance target. Fox is mulling tendering the stake if Disney supports the move, according to people familiar with the matter. The final bid from Comcast -- 17 percent higher than the company's offer for Sky going into the auction -- exceeded the 16.53 pound average estimate of a Bloomberg survey.
"We think Fox/Disney will sell its stake in the company -- it is a windfall for Fox and, for Disney, there is no direct competition in Europe between it and Comcast in the pay-TV arena," Whittaker said.
Fox said it's considering options regarding its 39 percent and will make a further announcement "in due course."