BNP's Skittish Traders Add to Challenges for Worst Bond Unit
(Bloomberg) -- BNP Paribas SA's trading business was caught on the wrong side of the emerging market selloff, blindsided by the Turkish currency crisis, and deserted by clients at home.
Now add this to the French lender's challenges as it tries to turn around one of the world's worst-performing fixed-income units: skittish traders.
"The thing that you should not underestimate is the psychology of traders," Olivier Osty, head of global markets at Paris-based BNP Paribas, said in an interview discussing the first nine months of the year. "The dynamic of trading is that when you start the beginning of the year and it's a bit difficult, it tends to continue with traders tested to remain engaged."
Osty is trying to stanch a decline in fixed-income trading that exceeds even the drop at troubled rival Deutsche Bank AG. Revenue at BNP's sprawling fixed-income, currency and commodities division, or FICC, fell by almost one-quarter to 2.2 billion euros ($2.5 billion) for the year so far. But unlike the German bank, which can blame some of the contraction on cutbacks to the trading business, BNP has no such excuse after investing to become a top tier securities firm.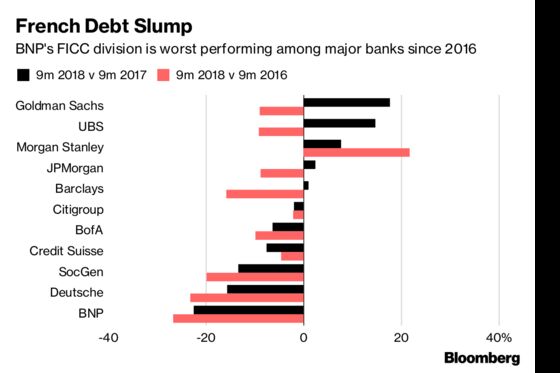 Some of those investments have paid off. BNP's equities business, the other half of Osty's domain, has boosted revenue by 38 percent since 2016 as he pushes an expansion of the prime brokerage unit, which caters to hedge fund clients.
But the fixed-income unit -- which deals in everything from U.S. Treasuries and Turkish corporate debt to derivatives wagering on gold, copper and yen -- has been struggling. And with the prospect of juicy bonuses dwindling, it can be hard to motivate even highly-paid traders after a poor start to the year, according to Darren Lefcoe, who traded corporate debt at Commerzbank AG and Mizuho Financial Group Inc.
"In these cases, people do the functions they do and run it like an office job," said Lefcoe, who left the industry in 2016 after almost two decades. "They make the bits they can make when they can make them and nothing else extra."
Much of the decline at BNP can be traced to a lack of demand for French government bonds compared with last year, when investors made bets on the election of President Emmanuel Macron. This impacted the bank's so-called rates business in Europe, a key generator of revenue, Osty said.
"Europe has been stalling in 2018," said Osty. "Client flows have been subdued."
Other problems lie further afield in emerging markets, where BNP wagered that assets would climb, he said. They've fallen instead amid turmoil from U.S.-China trade tensions, political tumult across South America, and higher U.S. interest rates.
BNP's traders struggled as the Chinese currency declined 6.3 percent against the dollar this year, according to people familiar with the matter. They also stumbled in South America, where the Argentine peso has plunged by almost half as President Mauricio Macri relies on the International Monetary Fund to help stave off an economic crisis, said the people, who requested anonymity because the details aren't public.
In Turkey, the French bank lost money on corporate-bond trades when a standoff with the U.S. over a jailed American pastor wreaked havoc on the country's markets, according to people familiar with the matter. While BNP's Turkish positions have since recovered, the episode added to its struggles for the year so far, the people said.
Yet some of Osty's rivals have thrived amid the volatility as investors rush to make bets and protect their holdings. Deutsche Bank traders reaped about $35 million in two weeks during the Turkish crisis, Bloomberg reported. Overall, the world's biggest investment banks increased revenue from trading emerging-market 'macro' products by about 12 percent to $10 billion so far this year, according to data from Coalition Development Ltd.
Andrew Achimu, a spokesman for BNP, declined to comment on individual trading positions.
Performance also declined at a division that deals in short-term loans known as repurchase agreements, or repos, because of increased competition, people familiar with the matter said. Revenue at the unit had soared over the past few years, partly because of a loophole in reporting requirements that gave French and Swiss lenders an advantage over U.S. rivals.
Rattled by the travails, BNP traders began to tread more carefully. Too much caution may have prevented the firm from making lucrative trades around Italian sovereign debt as populists parties were elected to power in May, people familiar with the matter said.
As he seeks to put those setbacks behind the bank, Osty is setting his sights on the U.S. for growth. BNP is continuing to push into collateralized loan obligations -- entities that pool together high-risk, high-yield corporate debts -- and complex products that let clients bet on interest rates. It has increased its share of the market for Treasuries to 4 percent since last year.
"For growth, the U.S. is really key for us," said Osty. "We've invested a lot this year and we're performing well."