Skip the Brexit Battle, Try Trading the Bank of England War
(Bloomberg) -- When it comes to Brexit, Columbia Threadneedle's Ed Al-Hussainy sees no way to trade Theresa May's quandary. So he's focusing on Mark Carney's.
The Bank of England governor may not, like the British prime minister, face a mutiny among his colleagues, but he could be in for a messy confrontation with rate markets. As May struggled to hold her Cabinet together last week, fixed-income traders looked past Carney's rate-hike signals and scaled back positioning for a move next year.
From Al-Hussainy's perspective though, Carney will probably have to tighten policy and a yield spike could be on the way. The pullback in market pricing shows that traders are focused on the growth risk from Brexit, the Minneapolis-based analyst said, and that they're underestimating the potential impact on inflation due to factors such as currency weakness, higher import costs and reduced immigration. For him, picking what the BOE might need to do is more predictable than whatever might happen in Westminster.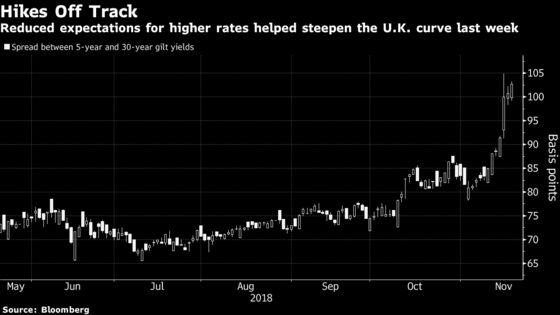 "We have no base case -- we tried scenario analysis but it's not working," Al-Hussainy said of his team's approach to trading Brexit. "The moment we start assigning probabilities, we're going to be wrong. Our people in the U.K. are too close to what's going on, and we in the States are too far away."
Traders are approaching a reckoning with monetary authorities on both sides of the Atlantic, with widespread doubts that policy makers can deliver the rate hikes they've signaled. But Al-Hussainy, whose firm oversees about $485 billion, said Carney's dilemma stands out. That's because stronger price pressures in the U.K. give the BOE less flexibility to back off tightening than either the European Central Bank or the Federal Reserve.
Markets may have to readjust to the prospect of higher rates soon, said Al-Hussainy, as the BOE is unlikely to significantly downgrade its growth outlook in its next set of economic forecasts. He predicts that intermediate-maturity U.K. yields will rise relative to those in the U.S., because the BOE doesn't have the same luxury of putting hikes on hold that the Fed has -- especially if the British currency continues to slide.
Carney told lawmakers Tuesday he welcomed the transition arrangements in May's draft withdrawal agreement. While he refused to say if a chaotic exit has become more likely, he said the threat is "uncomfortably high." The governor said earlier this month that if Britain were to exit the EU without a deal, it could cause a supply-side shock of rare magnitude that would push up inflation and warrant tighter monetary policy, even in the face of economic turmoil.
To complicate matters, Al-Hussainy said a no-deal Brexit could threaten the haven status of U.K. government debt.
"There's a real risk that if you have a nasty Brexit outcome, this luxury will start to disappear," he said. "And investors will demand a higher compensation to hold gilts."
If the outlook for U.K. growth isn't as bad as markets seem to be pricing, the same may not be true for risks to the euro region. James Athey, a money manager at Aberdeen Standard, said ECB policy makers are underestimating the potential blow back from Brexit.
"The negative impact of a disorderly exit is under-priced in the euro zone," he said by email. That could compound the impact from fractious politics surrounding Italy's budget, and the unwind of quantitative easing, making it difficult for the ECB to deliver on its ambitions to raise interest rates next year, he said.
Athey is positioned for the euro to weaken versus both the U.S. dollar and the British pound, and for money markets to price out policy tightening.
"These positions should all perform well in a bad Brexit outcome," he said.