Skin Care Tops Makeup at Estee Lauder in Chase for Youthful Look
(Bloomberg) -- Estee Lauder Cos.'s skin-care regimen is showing more signs of staying power.
Revenue from skin-care products surpassed that of makeup for a third-straight quarter at the company, which owns beauty brands such as Clinique and Bobbi Brown in addition to its flagship label. Skin care now accounts for more than 40 percent of revenue and more than half of profit.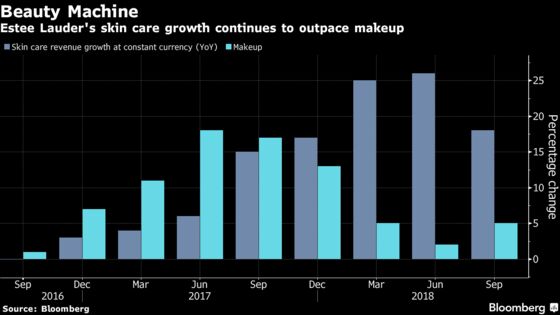 Luxury skin-care label La Mer, along with the skin-care items under Estee Lauder's flagship brand, performed especially well. Executives said on a conference call with analysts Wednesday that they expect consumers to continue to trade up to luxury products.
Skin care has dominated beauty conversations lately, as shoppers turn to products like niacinamide serums, hydration masks and jelly cleansers to soothe their tired skin. Estee Lauder is taking advantage of the trend, debuting a new treatment lotion mask and supercharged eye repair gel last quarter.
The shares rose as much as 12 percent to $146.33 in New York Wednesday, the biggest intraday advance in a year. The stock had already gained 3.1 percent this year through Tuesday's close, topping the 0.3 percent rise in the S&P 500 Index.