Sirius Plunges Most Since 2011 After $3.5 Billion Pandora Deal
(Bloomberg) -- Sirius XM Holdings Inc.'s $3.5 billion deal to acquire Pandora Media Inc. struck a wrong note with investors.
Sirius suffered its worst stock plunge in more than seven years on Monday after the satellite-radio broadcaster announced the acquisition, which would put the company in more direct competition with Spotify Technology SA.
On a conference call with analysts, Pandora and Sirius offered little detail about how they would work together after the merger. Sirius Chief Executive Officer Jim Meyer spoke vaguely about "optimizing cross-promotion" between platforms. "My gut tells me -- that's where I see the biggest opportunity," he said.
Sirius, backed by billionaire John Malone, is betting it can expand beyond an audience that mainly listens to satellite radio while driving. Sirius bought a stake in Pandora last year for $480 million, giving the online-radio company a lifeline after upstarts such as Spotify began luring away streaming-music subscribers.
The all-stock deal values Pandora at $10.14 a share. It's 12 percent more than the closing price on Friday, but way below levels of four years ago -- before the stock tanked as competition from Spotify and Apple Music intensified. Matthew Thornton, an analyst at SunTrust Banks Inc., called the price "underwhelming."
Malone has been working to build a radio empire, complementing the pay-TV assets that helped him build his fortune. Another of of the billionaire's companies, Liberty Media, has expressed interest in acquiring IHeart Media Inc., the U.S. radio broadcaster that filed for bankruptcy earlier this year.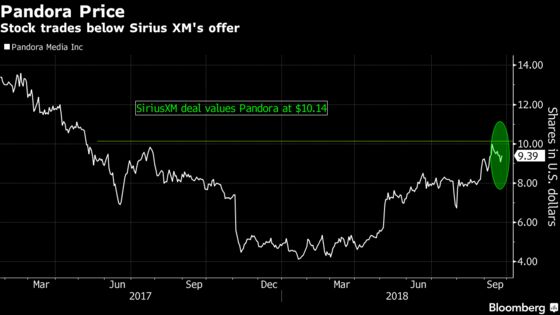 Sirius fell 10 percent to $6.26, the worst one-day performance since August 2011. Pandora shares also declined, falling 1.2 percent to $8.98 in New York.
Sirius is buying a company that has recorded years of losses. Pandora's shares fell for years in the face of competition from Spotify and other online services.
But a comeback has been in the works. Pandora introduced its own on-demand music service and brought in former Sling TV CEO Roger Lynch a year ago to work on a turnaround. At the end of the second quarter, the company had about 6 million paying customers. That's helped the stock recover this year, gaining 89 percent through Friday's close.
Pandora has introduced its own on-demand music service and brought in former Sling TV CEO Roger Lynch a year ago to work on a turnaround.
Sirius and Pandora said the transaction is expected to be completed in the first quarter of next year. The deal allows Pandora to look around for better offers. If Pandora takes a superior proposal from another acquirer, the company would owe Sirius a $52.5 million breakup fee. If the deal fails for other reasons, the breakup fee is $105 million.
Allen & Co. and Bank of America Corp. advised Sirius, while Baker Botts LLP and Simpson Thacher & Bartlett LLP provided legal advice. Centerview Partners LLC, LionTree Advisors LLC and Morgan Stanley advised Pandora, and Sidley Austin LLP was its legal counsel.