Sirius Enters Lion's Den of Silicon Valley With Pandora Deal
(Bloomberg) -- Sirius XM Holdings Inc. is so eager to reach listeners outside the car that it's willing to take on some of the world's largest technology companies.
Sirius, controlled by cable TV billionaire John Malone, announced an all-stock deal to buy Pandora Media Inc. on Monday, uniting the largest satellite radio service in the U.S. with the largest online radio company. Sirius was already a minority shareholder in Pandora, which it tried to acquire at least twice before.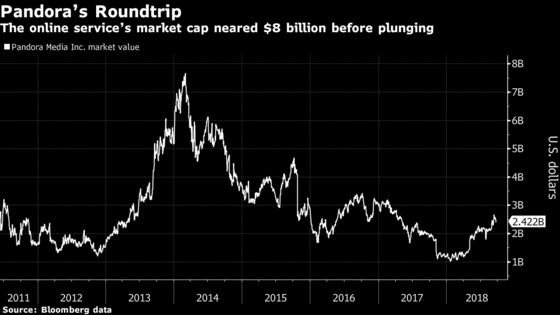 The marriage immediately would give Sirius a large customer base outside the car, a priority for a company that uses satellites to deliver its programming. Pandora, for all its struggles, has more than 70 million customers. The combined sales of the two should surpass $7 billion this year, eclipsing even Spotify Technology SA, the world's largest paid online music service.
But the deal also pits Sirius against technology's fiercest competitors: Apple, Spotify, Amazon.com Inc. and Alphabet Inc.'s YouTube. They're all racing to grab a bigger piece of the resurgent music market, which is growing again after years of declines as more consumers pay for music services they can access on their phones and via internet-connected speakers.
Spotify has signed up more than 180 million users, including 83 million paying subscribers, with a service that blends a library of more than 35,000 songs with playlists and videos. Investors like what they see, boosting its market value past $30 billion. But even Spotify hasn't managed to stave off competition. Apple Music has already eclipsed Spotify in some markets, and Amazon and YouTube are investing heavily in their own services.
Pandora was struggling to keep up, and now Sirius is betting it can do better. Investors are less certain. Sirius shares fell 10 percent Monday, cutting the value of the all-stock deal to less than $2.5 billion for Pandora shareholders. They didn't recover on Tuesday, when they dipped less than 1 percent to $6.25.
"Competitive intensity is rising,'' said Mark Mahaney, an analyst with RBC Capital Markets. For Pandora, "It may be better to sell now while you can.''
Analysts at Wedbush, meanwhile, said the slide in Sirius shares means Pandora investors probably will vote against the transaction.
Pandora was once an internet darling. The company promised to bring the anachronistic radio industry online, delivering stations personalized to the taste of every user. Founded by former musician Tim Westergren, Pandora said it would help expose undiscovered musicians to millions of new fans using software the company dubbed the music genome project.
The company attracted millions of customers, slowly lured advertisers online, and its market value approached $8 billion in 2014. Yet what was once a fast-rising startup, and then an early online media success story, is now a company in decline.
Advertisers remained stubbornly loyal to conventional radio, and Pandora's leaders missed the next revolution in online audio: on-demand streaming. First YouTube, and then Spotify began offering users catalogs of all the music in the world, delivered not just on radio stations but via playlists, videos and full albums.
Pandora's management resisted a sale for a couple years and shuffled through a couple of chief executive officers, including Westergren twice. In his second go-round, Westergren tried to compete with Spotify and Apple Music head-to-head, building an on-demand product to complement Pandora's radio service. But the company was six months late in launching the system and royalty payments to the record industry led to continued losses.
"There was the expectation the company would launch the premium services earlier than it did,'' CEO Roger Lynch said in an interview a couple weeks ago, while denying the company was in sale talks. Pandora is in the process of negotiating new record company deals now and expects to reduce its losses, he said.
Lynch took over after Pandora agreed finally gave in to Sirius's entreaties, selling a minority stake and handing over three seats on the board. Lynch came to Pandora from Sling TV, the online video service from satellite TV provider Dish Network Corp.
Neither Lynch nor Sirius provided much detail about how the companies would complement one another, except to say they plan to share programming and marketing opportunities. Sirius said the two services would remain the same for the time being, but analysts are already speculating about how the combined companies could work together.
Pandora has been expanding into non-music programming like podcasts and could add popular shock jock Howard Stern and sports talk from Sirius. Pandora, meanwhile, could use Sirius's relationships with automakers to get better placement in cars.
It all depends on Sirius executing, Macquarie Capital analyst Amy Yong said in a note. "If successful, the long-term growth profile is attractive."