Singer's Hedge Fund Gets a Surprising Helping Hand
(Bloomberg Opinion) -- The resignation of a company's chief executive and chairman in quick succession usually heralds a period of corporate inaction. Even if replacements can be found swiftly, they need time to piece together a new strategy.
The leadership vacuum at German industrial giant Thyssenkrupp AG is apparently no barrier to radical surgery, though. On Thursday the company confirmed a report from Bloomberg News's Eyk Henning that it plans to separate its capital goods and steel operations to create two more focused, listed companies.
This is surprising — to say the least — because Thyssenkrupp is in total disarray. CEO Heinrich Hiesinger and chairman Ulrich Lehner resigned in July after pressure from activist investors Cevian Capital and Paul Singer's Elliott Management Corp. The hedge funds have been agitating for change after years of poor performance at the company.
Guido Kerkhoff, the former chief financial officer, is acting CEO, and the chairman role has been taken on by Markus Grolms, a trade union member, again on a temporary basis. With the activists turning up the heat, it's not been easy to find a new chairman willing to step into the breach. The company's anchor shareholder, the Krupp Foundation, is also on the defensive, having been criticized for not backing Hiesinger. To make matters worse, Thyssenkrupp issued a profit warning in July. Like I said, it's a mess.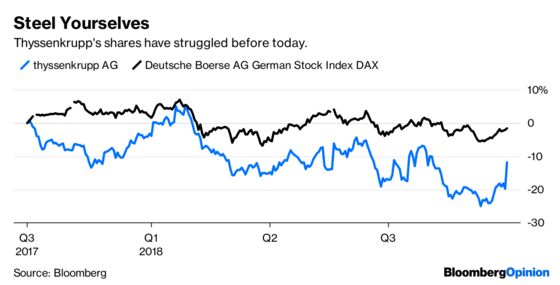 None of this is to say that breaking up is the wrong thing to do here. I've argued before that the beleaguered company should think about a separate stock market listing for its profitable elevators unit. On a standalone basis, the market capitalization for that division might exceed that of the whole group. One imagines Elliott and Cevian wouldn't be opposed either, especially if it paved the way for a merger with elevator rival Kone Oyj, whose profit margins are even better still.
Yet the plan the board will discuss on Sunday isn't quite that radical. Thyssenkrupp (comprising the old steel activities) would keep a minority stake in a new capital goods unit spanning elevators, industrial plant construction and car parts. It's a split, but also a bit of a fudge. The plant construction unit has been struggling lately, which might limit any re-rating of the new shares. This isn't a clean separation of that desirable elevators business.
Still, one can see why a partial breakup like this might be more amenable to the trade unions, who probably don't want to see a dilution of their influence. Plus it means the steel business, whose earnings are more volatile, should receive dividend payments from the capital goods unit. The rating agencies will no doubt like that.
Finding a solution that satisfies the value-creating obsessions of the hedge funds with the trade unions' desire to save jobs was never going to be easy. A 10 percent jump in the shares on Thursday suggests this is a step in the right direction.
This column does not necessarily reflect the opinion of the editorial board or Bloomberg LP and its owners.
Chris Bryant is a Bloomberg Opinion columnist covering industrial companies. He previously worked for the Financial Times.