Singapore Shoe-Box Rule May Cheer Home Buyers, Not Home Builders
(Bloomberg) -- Putting an end to "shoe-box sized" apartments in Singapore may be reason for residents to cheer but for developers, it could prove a double whammy.
Already hit in July by cooling measures that make it more expensive to buy and redevelop older apartment blocks, home builders have now been told there's a cap on the number of units allowed in any one project. While the move is aimed at stopping ever-smaller dwellings, for developers it may necessitate a pricing rethink that could dent profitability.
"The July curbs put the handbrake on en-bloc transactions," said Nicholas Mak, head of research at real estate consultancy ZACD Group Ltd. New rulings on unit sizes "could actually have a higher impact."
Developers in the city-state have to shell out almost 9 percent more for land acquisitions following the latest round of cooling measures. That, coupled with the fact they now have to build larger apartments, might force companies to lower selling prices in order to shift stock, Mak said.
New guidelines on unit size, released last week, effectively trim the maximum number of apartments allowed in a project by 18 percent. The changes will only affect developments outside of central areas and will come into effect early next year, the Urban Redevelopment Authority said.
The measures are meant to address concerns that housing in Singapore is becoming ever more cramped. Still, the problem is nowhere near as bad as in Hong Kong. Last year, a developer there was signing up tenants for a project with a "usable floor area" of about 5.7 square meters. That makes Singapore's average of 85 square meters seem positively spacious by comparison.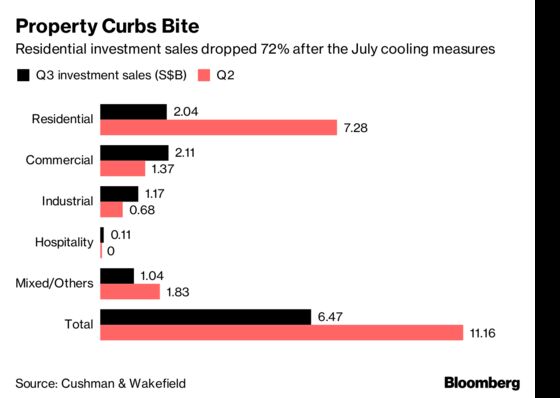 Projects being launched this year probably won't be impacted by the new size guidelines because they would have already received government approval. But home buyers eyeing condominiums coming online in 2019 might want to watch out for good deals, Mak said.
Apartment prices could decline as much as 2 percent next year and post a similar drop in 2020, according to analysts at UBS Group AG.
Developers in Singapore will ultimately end up building fewer, larger units, said Justin Tang, head of Asian research at United First Partners. "This could make a calibration of price on a per-square-foot basis necessary, which will eat into margins."