Top Singapore Banks Boost Dividends, Profit Beats Estimates
(Bloomberg) -- Two of Singapore's largest lenders will increase dividend payouts after profit in the second quarter beat forecasts driven by lower provisions for bad loans.
Oversea-Chinese Banking Corp., the city state's second biggest bank, will pay an interim dividend of 25 cents per share after reporting a 59% jump in net income to S$1.16 billion ($859 million), just ahead of estimates of about S$1.14 billion. United Overseas Bank Ltd. is planning a 60 cent per share payout following a 43% increase in profit to S$1 billion that beat the S$968 million average estimate.
Earnings for both banks were helped by an improved credit outlook with OCBC reporting a 69% drop in provisions for potential loan losses and UOB posting a 54% decline. Singapore's third largest lender was also boosted by a gain in lending income and fees from businesses including wealth.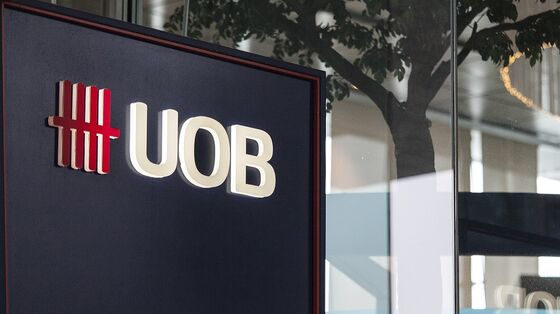 "With countries speeding up their vaccination drive, we are optimistic that the situation will gradually pick up in Southeast Asia," UOB Chief Executive Officer Wee Ee Cheong said in the statement, adding that asset quality is "resilient."
Regulators in the city state and beyond are taking the shackles off rules that required banks to keep money aside when the pandemic engulfed the world last year, allowing them to hand cash back to shareholders. The Monetary Authority of Singapore ended a cap on dividends just a few days ahead of the quarterly earnings season that restricted payouts at 60% of 2019 levels. OCBC paid a dividend of 15.9 cents a share a year ago, while UOB's payout was 39 cents per share.
Asset quality has stayed "well-contained throughout the pandemic and material asset quality concerns seem unlikely at this juncture" with gross non-performing ratio steady at 1.5% and any possible asset quality deterioration only surfacing in the second quarter of 2022, according to Bloomberg Intelligence analyst Rena Kwok.
"The banks have guided moderating credit costs for the rest of 2021, and we expect there may be more room for provisions write back in 2021 given the lenders' robust total allowance coverage which are well-above regulatory limit," she said.
Singapore banks have rallied this year, beating the Bloomberg Asia-Pacific Banks Index, reflecting optimism that lenders are emerging from the country's worst economic contraction in decades. Banks have maintained strong capital adequacy ratios despite higher levels of provisioning during the pandemic.
Shares in UOB were trading 1.2% higher at 10:04 a.m. on Wednesday, taking its gains for the year to 16%. OCBC was up 0.9%, taking its year-to-date advance to 23%.
UOB had "a very solid set of 2Q results, with beat driven by better balance sheet growth and higher loan fees," Morgan Stanley analyst Nick Lord said in a report. A 60 cent dividend is "a robust statement about future outlook."
Policy makers expect the city's economy to grow at least 4%-6% this year, though a revision of the official forecast for full-year growth due this month will be closely watched after the country tightened restrictions in July amid the emergence of the delta variant.
Southeast Asia's largest bank DBS Group Holdings Ltd. will report earnings Thursday.