Singapore's MAS Says Global Growth Risks Risen 'Significantly'
(Bloomberg) -- Singapore's central bank sees "dire" consequences to the global economy if rising trade friction escalates into a full-blown war.
"The world has clearly moved from trade tension to trade conflict," Ravi Menon, managing director of the Monetary Authority of Singapore, told reporters on Wednesday at the release of the bank's annual report. "If this escalates into a trade war, all three engines of global growth -- manufacturing, trade, and investment -- will stall."
With the U.S. threatening to slap higher tariffs on goods from China, Canada, the European Union and others, concerns are mounting that the trade conflict will spread, undermining global growth and hurting export-reliant nations like Singapore. That's on top of risks from higher oil prices, rising global interest rates and a stronger dollar.
Menon said the direct impact of higher tariffs will be limited, but if the conflict spreads, the results will be severe for the global economy.
"If we have a serious trade conflict or trade war with tariffs being applied across a broad range of products, disruption to the World Trade Organization process and so on, then I think the consequences will be quite dire," he said. "There is little question about it."
For now, the central bank is sticking with its growth projection for the local economy of 2.5 percent to 3.5 percent for this year.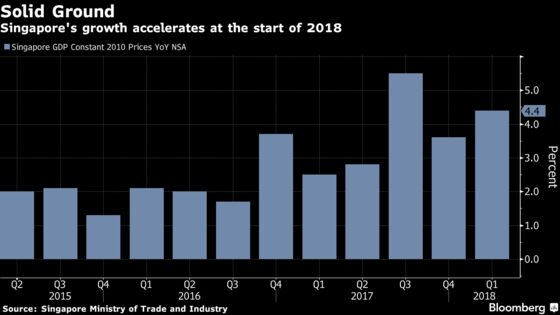 A global trade war is a "tail risk" to growth, which the central bank doesn't aim to pre-empt with monetary policy, said Menon.
"We're not calibrating monetary policy to address tail risks, so for now, that's not the case," Menon said. "If the trade conflict becomes much more serious, then it's no longer a tail risk, it becomes current reality, in which case, monetary policy will have to take that into account."
Menon also made the following comments at the press briefing:
On Singapore's property market:
MAS closely monitoring developments in residential property market, remains committed to maintaining sustainable market
Recovery is welcomed but needs to be in line with economic fundamentals
"If property prices rise too rapidly, they will outpace the growth in income, households will then have to take on more leverage than they are able to manage"
"This risk will be compounded as interest rates rise"
Increasing prices also raise the risk of "destabilizing market correction" when additional supply comes on line
Fintech estimated to have contributed close to 2,000 jobs in 2016, 2017. Financial services in total saw net increase of 7,800 jobs
Foreign exchange average daily trading volumes in Singapore declined by 6.7% last year, compared to 20.5% increase in 2016
Assets under management in Singapore rose an average 12.7 percent annually in 2016 and 2017; alternative AUM grew 16.9 percent over the two years, led by venture capital and private equity; private banking AUM grew an average 6.6 percent annually in 2016 and 2017
MAS providing information to authorities proactively on 1MDB
"We are still looking at certain individuals and there are others who we are looking forward to interview"
MAS in close contact with 1MDB task force, met with them twice
MAS may relook at banks again if there is new evidence, but so far, that hasn't been the case
"We're looking very closely at new information that's emerging from Malaysia and other places to see if any action on our part is warranted. But the investigations into individuals continues"
"The paralysis on trade flows will not stop at just trade, it will extend to investment, confidence across a range of economic indicators"
"If this scenario of a larger trade conflict unfolds, we are in a very different kind of global economic outlook. But at this point, it is hard to say how that process will unfold. It could well stop here, it could go on for a little longer."
"Our sense is that based on measures announced to date, the impact is not large. If there are a few more measures taken, we can probably still ride it. If it escalates into a full blown trade conflict, it's a different story altogether."