Singapore Press to Spin Off Media Into Non-Profit Entity
(Bloomberg) -- Singapore Press Holdings Ltd., owner of the country's flagship daily newspaper, plans to spin off its media business into a non-profit entity after conducting a strategic review of its businesses.
Faced with a steadfast decline in the media business, Singapore Press -- which also invests in properties from shopping malls to student accommodation -- has approached the government with a proposal to put the unit on a sustainable financial footing, it said in a statement on Thursday. The government has indicated its support for the restructure, it said.
"SPH shareholders are not likely to tolerate the continued negative impact that the media business has on the company's financial prospects," company chairman Lee Boon Yang said at a briefing. "On the other hand, we cannot allow a functioning, trusted and respected media organisation to be whittled down over time by market pressure and commercial constraints."
The company will provide initial resources and funding worth at least S$110 million ($82 million) to a new unit, which will eventually be transferred to a non-profit entity.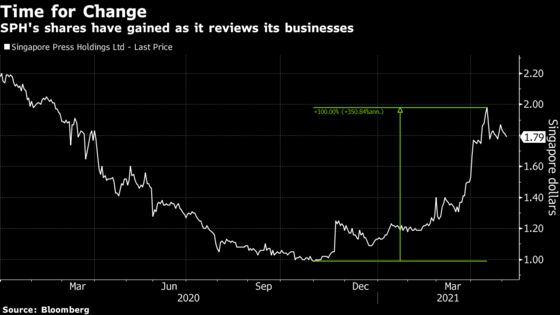 This structure that allows the media business to "seek funding from a range of public and private sources with a shared interest in supporting quality journalism and credible information is the optimal solution," the company said in a statement. The publisher of The Straits Times and The Business Times added that winding up or selling the business were not feasible options given the function of providing news and information to the public.
Last year, the conglomerate swung to its first full-year loss on record, based on data compiled by Bloomberg going back to 1990, after consecutive years of shrinking net income. Its media business accounted for more than half of its revenue last year while property made up about 38%, according to data compiled by Bloomberg
Singapore Press said that while such a model may be unfamiliar in the country, many news organizations overseas are operating under these funding structures. These include the Guardian in the U.K. that's been controlled by the Scott Trust since 1936 and the Tampa Bay Times in the U.S. that's owned by the non-profit Poynter Institute, it said.
SPH's shares were halted for trading on Thursday pending release of the announcement. They have gained 17% since the end of March, set for their third straight quarter of gains.
During the briefing, chief executive officer Ng Yat Chung said the review of its remaining businesses continues.
Credit Suisse Group AG is financial adviser to Singapore Press, while Evercore Asia (Singapore) Pte. has been appointed to advise the company's board of directors.