Tycoon-Backed Group Raises SPH Offer to Trump Keppel Bid
(Bloomberg) -- A group backed by a Singapore hotel tycoon and units of investment giant Temasek Holdings Pte raised its offer for Singapore Press Holdings Ltd. to gain the upper hand in a bidding contest for the company's property assets.
The agreement with Cuscaden Peak Pte. provides SPH shareholders with either a total consideration of S$2.40 per share, comprising a mix of SPH REIT units and cash, or an all cash offer of S$2.36 apiece, according to a statement from both firms. The offer values SPH at S$3.9 billion ($2.9 billion), trumping a bid last week from Keppel Corp.
SPH urged its shareholders to accept the revised offer, it said in a filing Monday. 
The offer is another escalation in the takeover battle for the media and property company's assets. Cuscaden -- a consortium which includes units backed by Singapore's state investor and a company tied to property tycoon Ong Beng Seng -- has been competing with Keppel to acquire SPH.
Shares of Keppel REIT gained as much as 1.7% in Singapore, while Keppel and Ong-led Hotel Properties Ltd. rose less than 1% each.
Up for grabs are SPH's assets including shopping malls located in Singapore and Australia, student accommodation in the U.K. and Germany, and a local nursing home chain, according to its website. It also has investments in the education and events business.
Keppel, which had offered S$2.351 per share in a "final" offer last week, did not immediately respond to a request for comment.
Media-shy Ong is known for bringing the Formula One night race to the city-state. His Hotel Properties Ltd. owns properties in Singapore, Thailand and the U.K.. The tycoon's involvement in the deal echoes a previous contest that he ended up winning. In 2003, Ong took control over steel-miller NatSteel after an eight-month takeover battle against a rival businessman.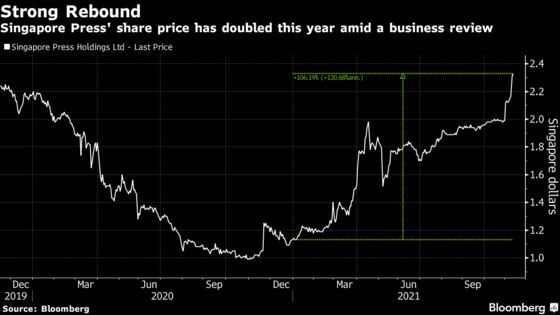 Both offers are dependent on the restructuring of SPH's media business, which includes the Straits Times newspaper, and is expected to be completed in December.
The Cuscaden offer of S$2.40 implies 3% upside from the last closing price. Trading of SPH's shares and those of its real estate investment trust were halted earlier Monday.
Read more: SPH Enters Pact With Cuscaden on S$2.40/Shr Offer: M&A Snapshot
The deal can only proceed if SPH shareholders first vote against the Keppel offer at a meeting on Dec. 8, according to the statement. If that proposal is voted down, shareholders will then proceed to vote for the Cuscaden offer in January.
About 40% of Cuscaden shares are held by Tiga Stars Pte., a subsidiary of Hotel Properties, according to the filing. The remainder is split evenly between subsidiaries of Temasek portfolio companies CLA Real Estate Holdings Pte. and Mapletree Investments Pte.