Singapore Home Sales Fell 27% to Four-Month Low in October
Sales of private apartments in Singapore slumped 27% to a four-month low in October.
Developers in the city-state sold 928 units last month versus 1,270 dwellings in September, Urban Redevelopment Authority data released Friday showed. That's the least since June, when just 821 apartments changed hands.
In October, there were 892 units launched versus 1,714 apartments in September, a significant drop of fresh supply into the market.
Private property prices in the Southeast Asian nation rose more than initially estimated in the third quarter, a sign of resilience more than a year after curbs were imposed to cool the housing market. Residential values increased 1.3% in the three months ended Sept. 30, data released last month showed.
Still, there is an overhang of unsold units -- at the end of the quarter, there were 50,964 uncompleted private residential units in the pipeline, up from 50,674 units in the previous quarter, that data showed.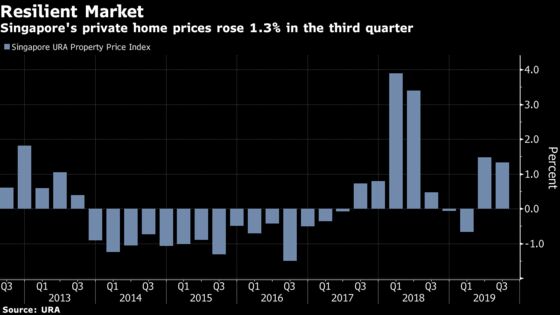 Developments with the biggest number of apartment launches in October included Parc Esta, Stirling Residences and Treasure at Tampines. Of the 150 units at Treasure at Tampines launched, 88 sold in the month.
Despite the sales drop, analysts said demand for private apartments is still reasonably stable given the tight labor market, favorable interest rate environment and relatively healthy household balance sheets.
More private housing units will be launched in 2020 from new residential projects and from those projects that were previously partially launched, according to Nicholas Mak, the Singapore-based head of research at APAC Realty Ltd. unit ERA
"If the healthy buying demand were to continue, the supply of newly released residential units will gradually be absorbed, barring any unexpected market shocks," Mak said
Prices are expected to continue to stabilize and rise by 2% for the full year, said Tricia Song, the head of research for Singapore at Colliers International Group Inc.
Dwelling values are likely to be kept in check considering the economic slowdown and ample launch pipeline, she added