Singapore Air Bringing 737 Max Back Into Service in Coming Weeks
(Bloomberg) -- Singapore Airlines Ltd. will start flying freshly fitted Boeing Co. 737 Max jets to countries including Malaysia, Indonesia and Thailand in the coming weeks, the company said Tuesday. 
The carrier is absorbing six of the 154-seat narrow-body planes into its fleet with the integration of its SilkAir unit. Another is expected to enter service before March, and then seven more are due to join operations next fiscal year. 
SilkAir Flies Boeing 737 Max Out of Desert Storage to Singapore
Boeing's Max was grounded globally in March 2019 following crashes in Indonesia and Ethiopia that killed everybody on board. Regulators worldwide have been gradually clearing the jet to fly again, with Singapore approving it in September. China is the major market where the Max is still banned.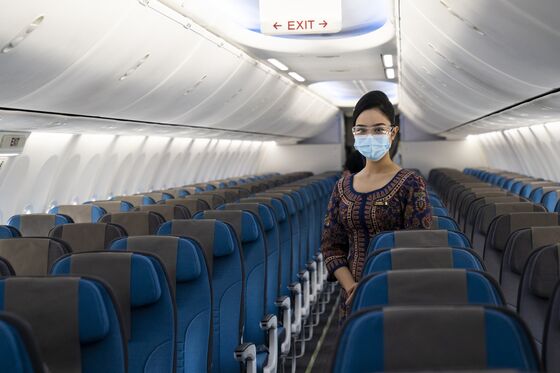 The Max jets in Singapore Airlines' fleet will be used on short- and medium-haul routes, offering 10 business-class seats that can be turned into fully-flat beds. They have 16-inch monitors for entertainment. Economy-class offers 10-inch monitors on slim-line seats made by Collins Aerospace, the carrier said Tuesday.
Singapore Airlines spent about S$230 million ($170 million) on the design and installation of the new cabin products, which it said will help deliver a customer experience similar to on its wide-body aircraft.
The relaunch coincides with Singapore reopening its border for quarantine-free travel and trying to reestablish itself as an international aviation hub. India, Indonesia and Saudi Arabia were among the latest added to the list of nations from where fully-vaccinated people will be able to fly in from. 
The Max aircraft will "progressively enter service" in the coming weeks, subject to regulatory approval, Singapore Airlines said in a statement. Planned routes also include Brunei, Cambodia, Nepal and the Maldives.