Silicon Valley-Backed Firm Is Offering a 'Hedge Desk' for Farmers
(Bloomberg) -- A firm that sprouted from Sam Altman's tech incubator is betting that while farmers are increasingly reliant on analytics to boost yields what they really want is new ways to market their crops.
FarmLogs initially focused on an application that allowed growers to monitor crop health, risks and efficiency on their smartphones and tablets. Now, Chief Executive Officer Jesse Vollmar says it's offering AutoHedge, which lets farmers price their bushels real time to manage risk.
"It's really kind of putting the power of a hedge desk in the pocket of the farmer," Vollmar said by telephone. "It's really critical that farmers pay attention to their marketing."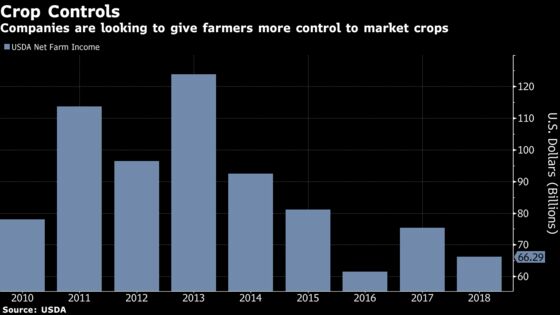 The same technology that's disrupted industries from retail to media is also rippling through the agricultural supply chain. Farmers have more information at their fingertips than ever before, connected by industry-specific applications and social-media platforms. Last fall, agribusiness giants Archer-Daniels-Midland Co. and Cargill Inc. announced they were forming a technology venture called GrainBridge that would allow farmers to execute transactions on their own schedules.
Meanwhile, trading houses and farmers alike have grappled with low prices amid a series of bumper crops. Further exacerbating the glut is the trade war between the U.S. and China that's saddled American-grown crops like soybeans with retaliatory tariffs. Farm income has fallen four out of the last five years, according to the U.S. Agriculture Department.
Vollmar likens the application to automated investment services like Wealthfront Inc. and Betterment LLC. Ann Arbor, Michigan-based FarmLogs has raised $37 million in venture capital and its backers include tech veteran Mark Kvamme's Drive Capital and Altman.
"Grain marketing is the new frontier for innovation on the farm," Vollmar said. "We've been in an environment where margins are thin and if you don't run your farm like a professional, chances are you're probably not going to be able to continue farming for that long."