Siemens CEO Faces Down Protesters, Signals Tough Year Ahead
Joe Kaeser has a difficult year ahead as he prepares his last major moves at the helm of Europe's biggest engineering company.
The Siemens AG chief is the target of environmental protests Wednesday over a controversial Australian coal mine contract, and reported a steep earnings decline even before the virus epidemic slows growth in major market China.
"We got off to a somewhat slow start into the new fiscal year," Kaeser said before a shareholder meeting in Munich. The German industrial giant's main gauge of quarterly profit fell 30%, and the company said it's not ruling out further job cuts at the energy division.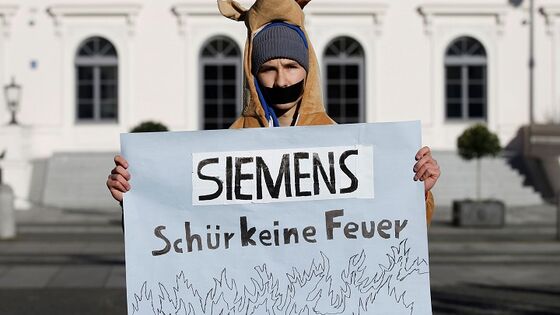 Siemens is planning to name Kaeser's successor later this year ahead of the end of his mandate in 2021. In the run up, the CEO is facing increasing pressure from environmental activists to pull out of a contract to supply equipment to the coal mine. The controversy has led to noisy demonstrations at company locations across Germany.
Kaeser dug in on Wednesday, calling the movement against the company "almost grotesque" and vowing to deliver the signaling system for the mine as planned. Greenpeace unfurled a "Bush Fires Start Here" banner on its headquarters ahead of the investor meeting, where protesters stood outside chanting and holding signs bearing messages like "Siemens Climate Killer" and "We have a right to talk."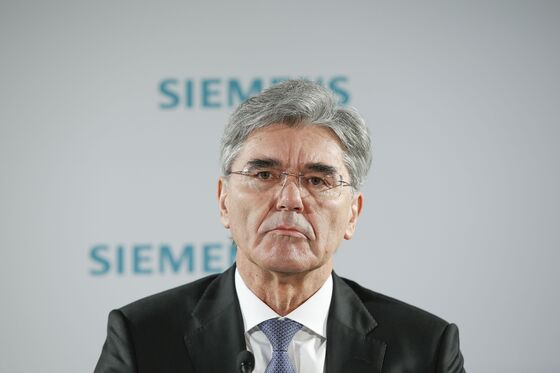 Kaeser has "an attitude problem and our hope is his successor acts differently," Volker Gassner, a representative of Greenpeace Germany, said in an interview.
Some investors were also critical of the project and its possible impact on the company's reputation.
"If all environmental and reputational risks had been carefully examined, Siemens should never have signed this contract," said Vera Diehl, portfolio manager at Union Investment Privatfonds, which hold about 0.5% of Siemens. "Did the child first have to fall into the well so that the last person in the group realizes that coal has no future?"
In what could be the last major change under his tenure, Kaeser is in the midst of revamping Siemens's energy businesses ahead of a planned listing of the power and gas division in September.
As part of the overhaul, Siemens announced Tuesday it's raising its investment in wind turbine maker Siemens Gamesa Renewable Energy SA through the purchase of Iberdrola SA's 8% stake for 1.1 billion euros ($1.2 billion). The Siemens Gamesa holding will be folded into the energy spinoff. Once that is complete, the company will be focused on making rail and power-distribution equipment and industrial automation software.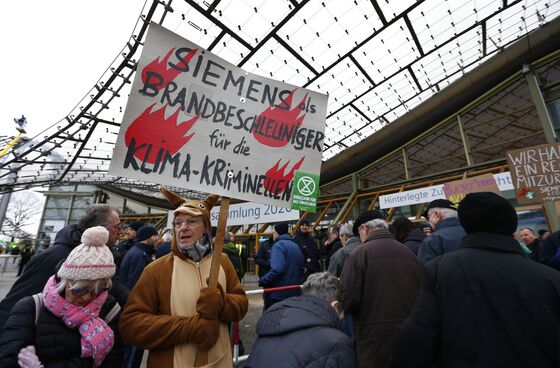 Read more: Siemens Buys Iberdrola Stake in Turbine Maker for $1.2 Billion
Siemens's adjusted earnings before interest, taxes and amortization from the company's industrial business dropped to 1.43 billion euros, according to a statement. This compared with the average company-compiled analyst estimate of 1.88 billion euros.
Swiss rival ABB Ltd. was more upbeat, reporting its first profit growth for three quarters driven by cost savings and demand from industries from food to packaging. The companies compete in supplying factory automation gear.
Siemens shares fell as much as 2.3% before rising 0.7% to 113.74 euros at 1:39 p.m. in Frankfurt. ABB stock rose as much as 5.1%.
Siemens Earnings Highlights
Revenue fell 1% to 20.32 billion euros on a comparable basis v. Bloomberg-compiled estimate of 20.72 billion euros.
Orders fell 4% on a comparable basis
The company confirmed full-year guidance; CEO said he still sees short cycle recovery in second half