Siemens Issues Cautious 2021 Outlook as Pandemic Seen Waning
(Bloomberg) -- Siemens AG forecast a slight increase in 2021 profit as the coronavirus pandemic wanes and the global economy returns to growth after a tough year for industrial companies.
Siemens predicted Thursday that net income will rise "moderately" from the 4.2 billion euros ($4.9 billion) generated in the 2020 fiscal year that ended Sept. 30. It proposed cutting its dividend.
Europe's biggest engineering firm also warned that pandemic-related challenges will remain, causing customer investments to lag behind economic growth, and negative currency effects to dampen operating profit at its core industrial businesses.
"I'm reasonably confident that we've been through the worst," Chief Executive Officer Joe Kaeser said in an interview with Bloomberg TV. He cautioned that business will be hard to predict, citing quickly rising virus infections as the second wave spreads.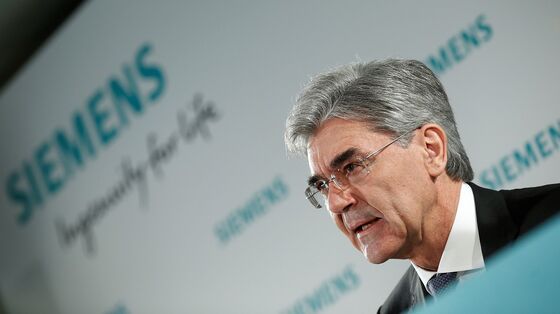 Siemens declined as much as 4.8% in early Frankfurt trading, valuing the company at about 96 billion euros. The shares have gained about 7% this year.
The company's outlook "will disappoint investors, but Siemens is known for a conservative guide," Jefferies analysts said in a note to clients.
Siemens has so far weathered the Covid-19 crisis better than some of its automotive and industrial clients, partly because it was able to keep its factories running virtually uninterrupted. It's also had an easier ride than U.S. rival General Electric Co., which unlike Siemens is reliant on aviation customers that have been hit by the collapse in air travel.
Siemens's earnings round out a period of tentative recovery for industrial companies. GE reported a surprise profit and better-than-expected sales despite its aviation trouble. ABB Ltd.'s third-quarter earnings also beat estimates, as the Swiss industrial giant was helped by a strong rebound in China.
Siemens is on the frontlines of a slump that has hit the global car industry particularly hard. The maker of factory equipment and software depends on investment by companies, which often drops during a downturn.
Group sales declined 2% to 57.1 billion euros in 2020, largely because of the pandemic. Analysts had expected revenue of 57.5 billion euros. The Munich-based company forecast "moderate" growth in comparable revenue in 2021.
Joe Biden's election victory is a boon to Siemens because it means "renewable energy, sustainability will be up on the priority list," Kaeser said.
Once he finishes his tenure next year, he will leave Siemens a transformed company that bears little resemblance to the one he took over in 2013. The engineering giant this year spun off its energy activities into Siemens Energy AG, which reported a loss this week after booking 1.5 billion euros in costs and suffering from power-plant project delays.
What's left of Siemens will focus on factory automation and software, along with a unit that makes trains. Deputy CEO Roland Busch, who will succeed Kaeser, already oversees much of the day-to-day responsibilities for those divisions.
Sales declined at all four of Siemens's industrial businesses; a bright spot was China, where orders bounced back and revenue rose after the country emerged from a lockdown in the spring.
Siemens management proposed a dividend of 3.50 euros per share, down from 3.90 euros the previous year, to reflect the Siemens Energy spinoff.
Adjusted earnings before interest, taxes and depreciation at its core industrial businesses came in at 2.6 billion euros in the fourth quarter.
Net income was bolstered by a pretax gain related to the listing of the energy division.