Deutsche Bank, Siemens CEOs Waver About Attending Saudi Event
(Bloomberg) -- The heads of Deutsche Bank AG and Siemens AG, two of Germany's biggest companies, are among a dwindling number of high-profile delegates still scheduled to attend an investment conference in Saudi Arabia following the disappearance of dissident journalist Jamal Khashoggi.
Siemens Chief Executive Officer Joe Kaeser said he's torn about whether to stick with his plan to go to next week's event in Riyadh. His counterpart at Deutsche Bank, Christian Sewing, hasn't made up his mind, according to a person briefed on the matter who declined to be named. Their hesitation comes as a range of top global business leaders have pulled out since Khashoggi vanished after entering the Saudi consulate in Istanbul on Oct. 2.
The conference comes at a critical juncture in the relationship between the two countries, making the decision more difficult for the two CEOs. Germany and Saudi Arabia just this month took the first steps to repair relations following a nearly year-long diplomatic feud that had damaged business ties.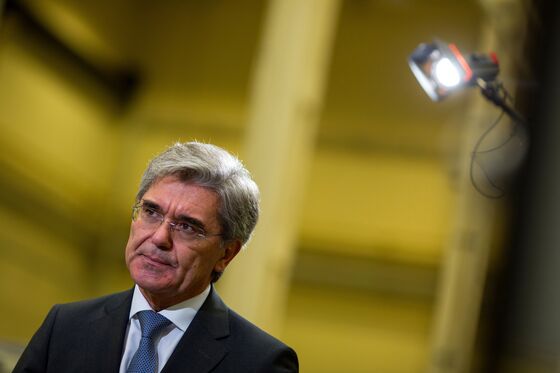 Kaeser's engineering behemoth is the only international "strategic partner" of the kingdom's Future Investment Initiative conference that hasn't pulled out. Many of the speakers at next week's event, including JPMorgan Chase & Co.'s Jamie Dimon and BlackRock Inc's Laurence Fink have canceled. Christine Lagarde, the head of the International Monetary Fund, deferred a trip to the kingdom that would've included a visit to the conference, which is designed to highlight modernization plans.
"This is a very serious topic where you cannot win," Kaeser told a conference in Toronto late Tuesday. "I haven't made up my mind yet, but I need to."
Other heads of European industrial companies are also wavering. Asked about the attendance of ABB Ltd. Chief Executive Officer Ulrich Spiesshofer, a spokesman said the company is "carefully monitoring the situation." Electricite de France SA CEO Jean-Bernard Levy is still scheduled to attend.
At Deutsche Bank, a spokesman declined to comment on whether Sewing will participate. Other executives from major European banks -- including BNP Paribas, Credit Suisse, HSBC and Societe Generale -- have dropped out.
Siemens's Kaeser put his chances of going at 50 percent, saying he would make a decision "in the next day or two."
The executive has often touted his company's close relationship with Saudi Arabia. Siemens last year received a blockbuster order for five gas turbines that will be used in a gas extraction plant in Fadhili and the company has a gas turbine manufacturing plant in the country's Eastern Province.
"If we skip communicating with countries where people are missing, I can just stay home," he said in Toronto. "If I go, I am going to address and speak up in this country because I want my people, the thousands of people who work there, to be able to speak up and speak their mind."
U.K. defense contractor BAE Systems Plc will send its officials to the event, BBC has reported.
Turkish officials have said privately, without offering evidence, that Khashoggi was killed and dismembered inside the consulate. Saudi Arabia initially said the Washington Post contributor exited the building alive, without backing up that claim.
However, they've since undertaken an internal probe, and some Saudi officials have floated an alternative narrative suggesting he died in a botched interrogation.
Saudi Arabia just sent back its ambassador to Germany this month and German Foreign Minister Heiko Maas was planning to travel to the kingdom as well. Maas's trip is now on hold, a person familiar with the matter said. Germany expects a full explanation from Saudi Arabia on what happened, Chancellor Angela Merkel's chief spokesman Steffen Seibert said on Wednesday in Berlin.
The original spat between the two countries was triggered by German accusations of undue Saudi influence over Lebanon. The fight had put contracts for German companies with the kingdom at risk. Deutsche Bank is among banks hoping for a mandate linked to oil giant Saudi Aramco's initial public offering, which could be the largest share sale ever should the stalled plan eventually move forward.