Siemens-Alstom's European Champion Deal Blocked by EU
(Bloomberg) -- Siemens AG and Alstom SA's plan to merge into a world-conquering European rail champion was blocked by the region's antitrust regulators who refused to cave in to warnings about the looming threat of Chinese competition.
Margrethe Vestager, the European Union's antitrust chief, said the duo could have won her blessing had they offered to sell enough assets to allay competition concerns. She didn't buy into their argument of rail rivalry from Asia, saying "the Chinese are nowhere" in Europe and "literally have no presence here."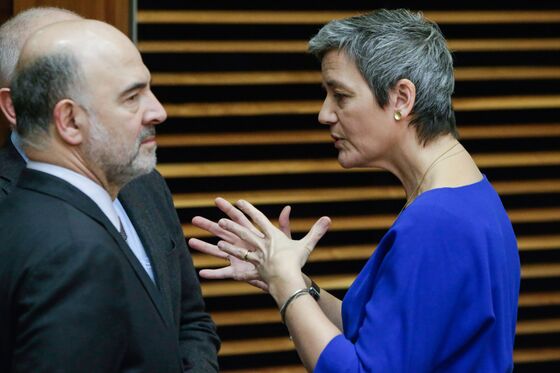 The decision is a victory for Vestager who came under intense pressure from French and German ministers demanding the creation of a European winner able to meet head-on competition from China. The tie-up -- unveiled in September 2017 -- would have merged Siemens's mobility unit and Alstom to create an entity with about 15 billion euros ($17 billion) in revenue.
"We're not supposed to be political," Vestager told reporters in Brussels. "We're not supposed to say, lean to one side, or the other side, we're supposed to look at the facts of the case. But we have a very, very clear value-based mandate, to make sure that the market serves consumers and customers."
The deal would have created the undisputed market leader for some signaling and a dominant player in very high-speed trains, the EU said. It risked increasing prices and curbing the choice of products for rail operators. Regulators got negative feedback from customers, rivals and industry groups on the companies' offer to sell signaling business and license high-speed train technology.
Alstom shares rose as much as 5.5 percent in Paris, while Siemens dropped as much as 1 percent in Frankfurt.
The signaling offer was "a complex mix" that wasn't a "standalone and future-proof business" allowing a buyer to compete against the merged firm, the EU said. The promise to sell Alstom's Pendolino was deemed to fall short because it was "a train currently not capable of running at very high speeds." Licensing Siemens' Velaro train technology was restrictive and wouldn't have allowed a rival develop a competing train, the EU said.
Siemens CEO Joe Kaeser said the decision showed the need to change the EU system. Alstom CEO Henri Poupart-Lafarge blamed prejudice at the EU and "that whatever we could have offered, the response would have been negative."
Vestager told Bloomberg News that she'd be willing to reconsider the deal if the companies came back with a new format. The EU's concerns centered on two areas -- signaling and very high-speed rail -- with regulators failing to find serious problems in many other product markets, such as metro trains.
French Finance Minister Bruno Le Maire and German Economy Minister Peter Altmaier, who lobbied in favor of the deal, said they would work to overhaul European competition rules and industrial policy.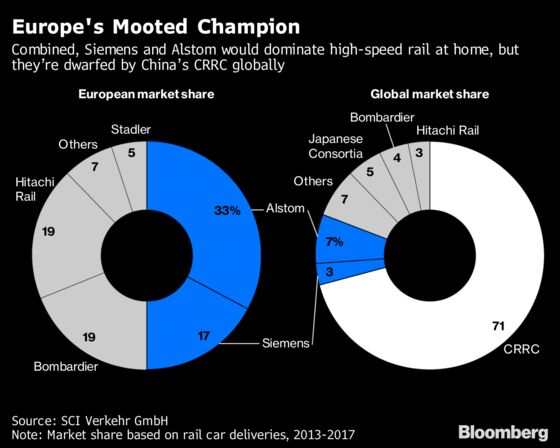 Keen to protect the EU's independence to weigh deals, Vestager stressed that the EU had other ways to respond to concerns about China, such as screening mergers on national security grounds or banning European government contracts going to companies from countries where European bids are restricted.
Bombardier, a Canadian train producer, was "pleased" that the EU had vetoed the deal which "would have severely undermined the health and competitiveness of the whole European rail market," according to an emailed statement.
While it's rare for the EU to veto a deal, regulators on Wednesday also blocked another German deal -- Wieland-Werke AG's plan to buy part of Aurubis AG -- over concerns the combination might eliminate competition for copper rolled products. Vestager has now blocked five deals since she became commissioner in 2014. EU opposition has forced several other companies to abandon transactions, often after they decided concessions to gain approval would be too painful.