Shunning FAANG Paid Off for Stock Pickers in September
(Bloomberg) -- The resistance to chase gains in U.S. tech megacaps paid off big for stock pickers just one month after it stung them the most in nine years.
Large-cap core funds in September saw their best month since 2009 as all but one member of the FAANG block of Facebook, Apple, Amazon.com, Netflix and Google parent Alphabet fell, bucking the broader market's upturn. About 68 percent of the funds beat their benchmarks, a huge turnaround from August, when only 13 percent did, the worst showing since Bank of America Corp. began compiling the data.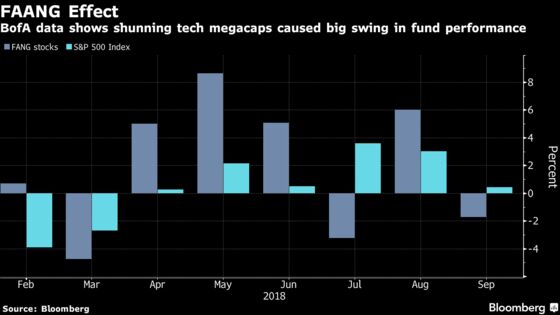 "Core funds' weak performance in August was in part due to underweight positions in FAANG stocks, and in September, with NFLX the sole gainer in the group, core funds likely benefited from this same stance," strategists led by Savita Subramanian wrote in a note to clients. It "was a tailwind," they said.
The swing in fund performance underscores the outsize influence that the tech giants have exerted on the market. While shunning them when they rally can be costly, it can be rewarding when they fall, all else equal.
Apple slipped in September, following a 20 percent gain that was the most for any month in more than six years. The other four also declined as a group, erasing almost a third of their August gains.