Should General Motors Scrap Its Name? Morgan Stanley Says Maybe
(Bloomberg) -- General Motors Co. management may want to contemplate a name change to get investors thinking differently about the more than century-old company that's trying to transform itself.
At least that's what one outspoken analyst is thinking based on conversations with shareholders. In a note Tuesday, Morgan Stanley's Adam Jonas wrote that "several investors have asked us about the potential for a name change to accompany a radical strategic shift for the company."
"We have no knowledge or strong opinion on a potential name change, but do not exclude the possibility of such an action being considered by GM's leadership to help foster perception and cultural change," Jonas said.
A GM spokesman said the company isn't considering a name change. But Jonas could be forgiven for floating the idea, as a series of household-name companies have tried to re-brand themselves lately. The luxury fashion group Michael Kors changed its name to Capri Holdings Ltd. last month after completing its acquisition of Versace. Weight Watchers International Inc. announced in August that it'll start going by WW, and home furnisher Restoration Hardware Inc. became RH in early 2017.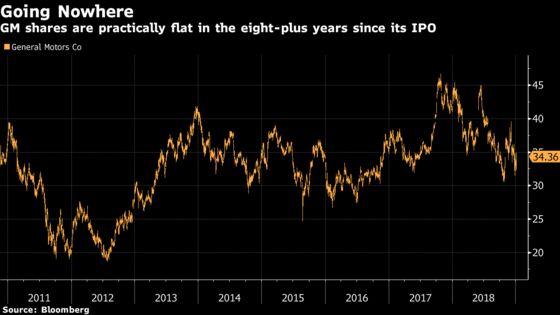 GM marketers have gone back and forth in promoting the company name in the past. In 2005, the automaker put small GM "mark of excellence" badges on its cars to improve consumer familiarity of which vehicle brands the company produced. The badges were stripped off after GM emerged from bankruptcy in 2009 because the stigma of its government-backed reorganization was turning some buyers away.
GM is hosting an investor day this Friday, which Jonas called "highly unusual." He wrote that he can't recall any auto company hosting such an event prior to the Detroit auto show, which will be held next week.
Jonas expects GM executives to discuss challenges to near-term industry fundamentals, with Morgan Stanley's estimates for this year roughly 30 percent below Wall Street consensus, and to tout the significant untapped opportunity the company has with respect to data. Jonas has had the equivalent of a buy rating on GM since upgrading the stock in April.