Short Sellers Dominate China's Latest Hot Commodity Bet
(Bloomberg) -- Methanol is the latest niche commodity to attract the attention of China's speculators.
Prices of the toxic alcohol, which has many uses including petrochemical and gasoline production, slumped to a five-month low on Monday in the heaviest trading since March 2016. Open interest in the contract traded on the Zhengzhou Commodity Exchange hit a record.
Prices then jumped more than 7 percent on Tuesday, but both volume and open interest shrank.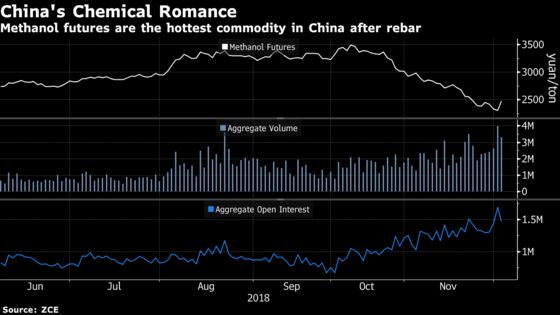 On both days, the interplay between price direction, open interest and volume indicated short sellers are dominating.
Falling prices accompanied by rising volume and open interest is often a sign that investors are shorting the futures. Rising prices amid declining volume and open interest indicates they're covering their short positions. Neither are signs of strength.