Short Sellers Are Wagering That London Home Troubles Will Spread
(Bloomberg) -- Short sellers are betting that homebuilders will be hurt by a proposed new levy on overseas buyers of U.K. properties and slowing sales.
Henderson Global Investors, GLG Partners LP and Leda Braga's Systematica Investments have raised their wagers against residential property firms since Prime Minister Theresa May's government said it will consider increasing the stamp duty sales tax on buyers based outside the U.K. Hedge funds are also increasing negative bets on companies building homes away from the struggling markets in London and the Southeast.
Short interest in Taylor Wimpey Plc is at the highest since 2015
At Persimmon Plc, the largest U.K. homebuilder by market value, it's currently the highest in four years
It's now the highest since 2010 at Barratt Developments Plc.
High prices, Brexit uncertainty and more taxes are all weighing on a market that's been booming since shortly after the financial crisis thanks to low-cost credit and government programs that promote home ownership. Crest Nicholson Plc fell to the lowest since March 2013 on Wednesday after it warned that the usual autumn pick-up in sales had failed to materialize amid slower demand in London and higher-priced markets in the south of England. At its 10 most challenging sites in and around the U.K. capital, the company's sales are about 30 percent lower than the equivalent period last year.
Representatives for Crest Nicholson, Barratt Developments, Taylor Wimpey, Persimmon, GLG, Systematica Investments and Henderson Global Investors declined to comment.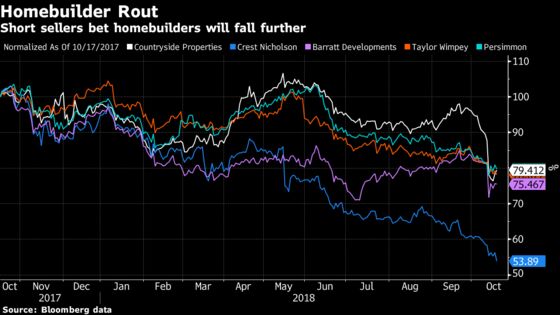 Short sellers borrow shares and sell them, aiming to buy them back at lower price. They have cut their bets against Crest Nicholson in recent weeks as the stock plummeted. The money managers got another boost when the homebuilder cut its margin target and said it would sell more homes in bulk, which tends to yield lower prices, dispose of some land and slow its building rate. The stock fell as much as 14.9 percent on the day.
They've also been profit taking at Berkeley Group Holdings Plc, the homebuilder with the most exposure to the U.K. capital, where short interest has declined to 2.1 percent of outstanding shares from a 12-month high of 3.1 percent in September.