Short-Seller Favorite Stitch Fix Soars on Earnings Beat
(Bloomberg) -- Stitch Fix Inc., the apparel company that uses software to predict what customers want, surged after posting earnings results that beat estimates and issuing a better-than-expected sales forecast for the current quarter.
The stock jumped as much as 25 percent pre-market Tuesday after Stitch Fix reported fiscal second-quarter adjusted profit of 12 cents per share on sales of $370.3 million Monday evening. Both exceeded the highest analyst estimates compiled by Bloomberg. Stitch Fix also projected third-quarter sales that topped the average estimate and said that active clients rose to 3 million during the quarter, an increase of 18 percent compared with the same period last year.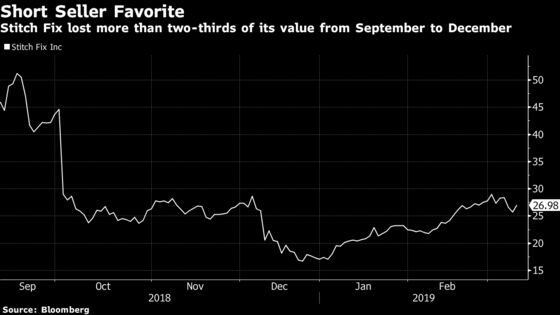 Short interest in Stitch Fix had inched up over the past week, with about 33 percent of the float on loan to short sellers on Monday, according to S3 Analytics data. That's up from 31 percent a week ago.
Wall Street has grown less bullish on the company over the past six months as the stock lost more than two-thirds of its value. Three of the 11 analysts covering the company have a buy rating, compared with about half in September, according to Bloomberg data.
Investors had been bracing for a big move following the earnings report with the options market implying a swing of as much as 18 percent.
RBC Capital Markets analyst Mark Mahaney told clients in a note that fundamental trends were "generally positive" and a second-half guidance that implies net adds are stable, at or above prior year. "Our concern last quarter was with the outlook for moderating growth in active clients. We now see a near-term outlook for stable or even accelerating Active Clients." Still more important, the consistency of the company's financial results is impressive, he said.
Mahaney rates the stock outperform, and boosted his 12-month price target to a Street-high $52 per share from $39.
PREVIEW STITCH FIX 2Q: Expect In-Line Results, Client Commentary