Shopify Plunges as Another Equity Raise Confuses Wall Street
(Bloomberg) -- Shopify sank as much as 11 percent to $143.02 after announcing its second equity capital raise this year, confounding some bulls.
The Canadian e-commerce company said in a statement last night it would sell 2.6 million Class A subordinate voting shares to strengthen its balance sheet, which follows a 4.8-million share offering from earlier this year. The latest equity raise priced at the bottom of the reported $154 to $156 range.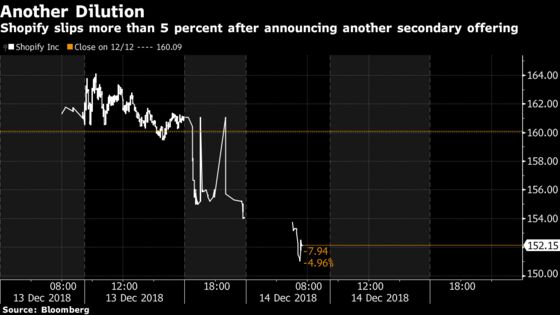 Macquarie analyst Gus Papageorgiou, who has an outperform rating on the stock, noted that the balance sheet is already cash rich.
"At the mid-point of the offering price it suggests a raise of $387m, to an existing position of $1.6b and a dilution of approximately 2.4%," he wrote. "It is not obvious that the balance sheet needs further strengthening."
Shopify had 94.6 million shares outstanding as of Nov. 30. Shares have risen 59 percent year-to-date as of Thursday's close, which would put it in the top 10 performers in the S&P 500 if the stock was a member of the index.