Shares of Colombia's Aval Plunge Most Ever Amid Odebrecht Probe
(Bloomberg) -- Shares in Grupo Aval, Colombia's biggest banking group, fell the most ever Wednesday following a month in which a bribery investigation into its partner took a series of bizarre turns, spooking investors. The company's bonds also fell.
Aval's preferred shares fell as much as 10.6 percent, and ended the day down 6.2 percent, the biggest drop since they were listed in 2011. Its financial subsidiary Corficolombiana plummeted 8.4 percent, extending its lowest levels since 2010.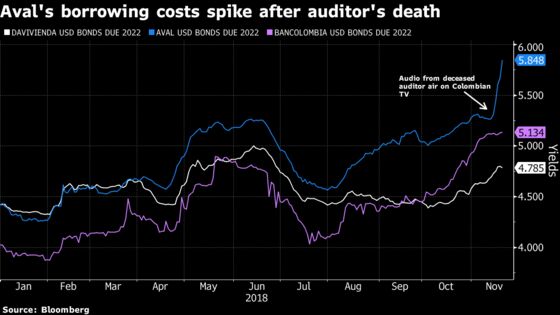 Aval's strong third quarter performance has been eclipsed by a probe into Brazilian contractor Odebrecht, its partner on a highway project. An Aval auditor on the project who had sounded the alarm about irregular payments as early as 2013 died of a heart attack this month; three days later, his son died of cyanide poisoning in mysterious circumstances. A criminal investigation is under way.
The auditor, Jorge Enrique Pizano, left secret recordings of conversations with Nestor Humberto Martinez, a lawyer who had represented Aval, in which he raised concerns about irregular payments from the highway, Ruta del Sol. In an interview with a Colombian TV channel, Martinez said he passed on Pizano's concerns to Luis Carlos Sarmiento Angulo, Aval's billionaire founder. Martinez is now the nation's Attorney General.
"It may all come to nothing, but the stories and gossip currently circulating related to Odebrecht concern investors in an era when corporate governance is primordial," said Rupert Stebbings, institutional equities adviser at Alianza Valores, a Colombian brokerage.
Martinez has said that at the time Pizano raised concerns there was no indication the payments were part of Odebrecht's bribery scheme.
Aval's investor relations department didn't immediately reply to an email seeking comment.
Corficolombiana partnered with Odebrecht to build a section of Ruta del Sol connecting the center of the country with the Caribbean coast. The project was liquidated after Odebrecht admitted to having paid a bribe to obtain it.
In a 2017 filing with the U.S. Securities and Exchange Commission, Aval said it had "absolutely no knowledge of our partner's illegal actions."
The stock's daily trading volume was more than 50 percent above average Wednesday. The yield on Aval's dollar bonds maturing in September 2022 has risen 49 basis points or 0.49 percentage point since Pizano died. Yields on its peer Bancolombia's similar maturity bonds rose 5 basis points over the same period.
In a regulatory filing earlier this year, the company said, "It is possible that information damaging to us and our interests will come to light in the course of the ongoing investigations of corruption by Colombian authorities."