Shale Reality Check Hits as Oil Results Underwhelm Investors
(Bloomberg) -- Shale drillers gave investors a reality check after a strong start to the year, with Anadarko Petroleum Corp., Chesapeake Energy Corp., Devon Energy Corp. and Concho Resources Inc. all falling after disappointing earnings reports.
Expectations were heightened with second-quarter oil prices 41 percent higher than a year earlier, and with most producers pledging to keep spending within cash flow. But for the most part they failed to deliver.
The result: Each slid in New York trading, with some losing 5 percent or more. While at least part of that drop was due to oil prices that hit a five-week low on Wednesday, analysts suggested investors were looking for more than the mixed-bag results that were reported.
"There were high expectations," said Subash Chandra, a New York-based analyst at Guggenheim Securities LLC. "They either didn't beat or raise their guidance, or if they did, it was offset by more spending."
One big "red flag," according to Chandra: Capital spending increases based on cost inflation, "when most of us thought inflation was already modeled in and settled."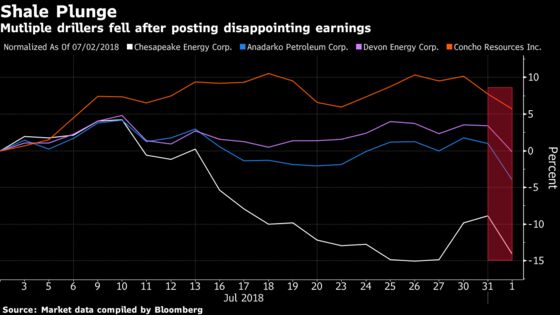 The trend is likely to continue as other producers disclose earnings, said Leo Mariani, a NatAlliance Securities analyst, in a note on Wednesday. "Overall risk appears to be to the downside for most companies," he wrote. "A majority of U.S. E&Ps are likely to eventually outspend" their second quarter budgets.
Still, not every driller was punished for growth. While Matador Resources Co. hiked its production and capital spending targets, it also increased its profit forecast. The Dallas-based company's shares were little changed in trading after the official close of New York markets.
Shale's performance was a rerun of last week's pratfall by big international oil companies.
Exxon Mobil Corp., Royal Dutch Shell Plc and Chevron Corp. all missed earnings estimates but the latter placated investors to some extent with a small share buyback. BP Plc and Total SA's figures were better received with the British major hiking its dividend for the first time in four years and the French company raising its production target for the second time this year.
Here's a breakdown of key earnings reports on Wednesday:
Raised capital spending for the full year by about 6 percent, to $4.5 billion to $4.8 billion, without upping its production target.
Cited "modest" rise in oilfield costs.
Second-quarter sales rose 21 percent to $3.3 billion and oil production beat analyst expectations, but earnings fell short.
Stock dropped as much as 7.3 percent, the most since May 3, and traded down 4.8 percent at 3:53 p.m. in New York trading.
Profit, sales estimates missed despite a 54 percent jump in Permian oil output.
Restructuring costs, downtime at Canadian oil sands weighed on earnings.
Disappointing results at Showboat project in Oklahoma's Stack shale play.
Stock dropped as much as 8.4 percent, the most since Feb. 21.
Net income fell from a year earlier, although it still beat analyst estimates when adjusted for one-time items
Produced the equivalent of 229,000 barrels of oil a day, a company record
New guidance accounting for Concho's acquisition of RSP Permian Inc. forecast slightly lower production and higher spending than expected, RBC Capital Markets' Scott Hanold said in a note to clients.
Shares fell almost 4 percent in after-hours trading.
Missed production estimates and spent $595 million on capital projects, 5.4 percent more than analysts anticipated.
Stock dropped as much as 10 percent, eroding this year's gain.