Serbia Tackles the Plunging Population Plaguing the Balkans
(Bloomberg) -- Zoran Djordjevic has a challenge: to halt a hemorrhaging of workers that's seen his country lose more than 5 percent of its population in the last decade.
As Serbia's labor minister, Djordjevic is facing the same hurdles as every country in the Balkans -- relatively low wages, high unemployment and better-paid jobs beckoning just a short distance away in the European Union. He's hired a team of economists and statisticians, led by an migration expert, to tackle one of the biggest economic and demographic problems in Europe.
The plan is to leverage Serbia's stable economic growth, tight public finances, thirst for foreign investment, and President Aleksandar Vucic's plan to bring the country into the European Union sometime next decade, the minister said.
"That's the ammunition we can use," said the 49-year-old former financial executive and defense minister. "By the time we join the EU, we want Serbia to be a country somewhere in the middle, while economic migration will happen to some other country."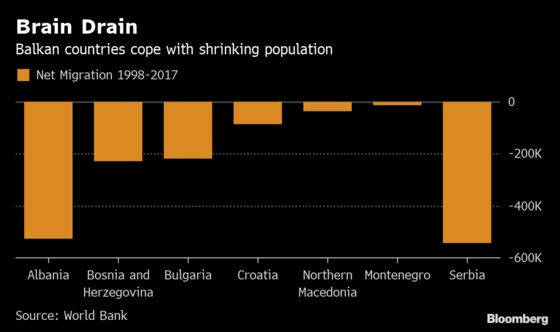 Serbia isn't alone. Nearby Albania, Bosnia and Herzegovina, North Macedonia and Montenegro are also seeking to join the EU. Neighbor Croatia and Bulgaria are already members, a status that actually helped intensify the exodus of their citizens. Bulgaria, which is also suffering from a low birth rate, has one of the fastest-shrinking populations in the world.
Sergei Guriev, the chief economist of the European Bank for Reconstruction and Development, painted a tough picture ahead for the region. That's made worse by living standards that are just slightly higher than a third of the EU's, which compares with half of the bloc's level for Bulgaria and two thirds for Croatia.
"Serbia is still on the poor side of the chart," Guriev said in Belgrade last week. "When Serbia reaches today's level of Georgia, Turkey or Hungary, further development will decrease emigration."
According to a report from the Organization for Economic Cooperation and Development, about 60 percent of the roughly 415,000 Serbs who left between 2007 and 2016 went to Germany. Unemployment exceeded 11 percent at the end of last year, a rate that spikes to 25 people of for those under the age of 24.
Young people "want secure jobs, a good salary and a quick path to buying an apartment," Djordjevic said. "The role of the government is to help create new jobs so that people don't rely on social benefits, or move to nearby cities because of a lack of jobs in their hometowns, or eventually leave the country."
Still, annual economic growth of 3.5 percent in the fourth quarter is an improvement over 2017, and foreign direct investment of 1.4 billion euros ($1.6 billion) from the middle of last year was on track to be the most in seven years.
Djordjevic plans to improve that further by retraining workers and luring more factories, a strategy that's worked to help propel countries like Hungary, Slovakia, the Czech Republic and Poland to a wealthier standard. At the same time, the minister says the country should pursue value-added jobs to avoid a model based only on cheap labor. And that can take advantage of a vibrant social life that he said made Serbia "champion of the world."
"Our idea is for Serbia to be different," he said. "You have an increasing number of high-skilled jobs that can be performed remotely, there are modern means of transport and communications, and Serbia is not a country that's short of anything."