Sensex Falls Most in Three Weeks On Supply Disruption Concerns
(Bloomberg) -- Indian stocks plunged, in line with markets across the world, on concern that disruptions to supply chains due to the coronavirus may hurt company earnings and worsen the economic outlook.
The S&P BSE Sensex fell 2%, its biggest drop since Feb. 1, to 40,363.23 in Mumbai. The NSE Nifty 50 Index slipped 2.1%. Markets were closed on Friday for a local holiday.
Stocks declined globally as authorities struggled to keep the coronavirus from spreading further beyond China.
The NSE Nifty 50 Volatility Index of expected price swings in the Nifty gauge, jumped by the most in two years. The VIX is still below this year's peak of 17.4 touched last month.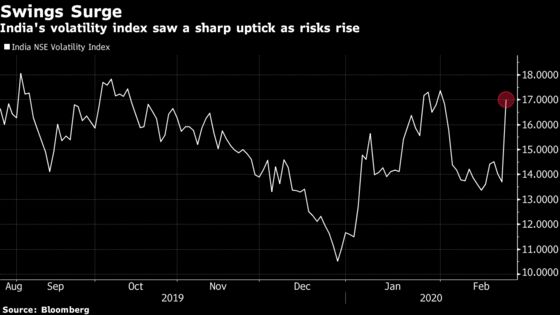 India's imports from China account for nearly 14% of total purchases from abroad, Mumbai-based brokerage Prabhudas Lilladher Pvt. said in a note. Industries that are most exposed include pharmaceutical, automobiles, consumer durables, fertilizers and chemicals.
Crisil Ltd., a credit assessor and ratings company, expects Indian firms to be "severely" affected if delays of supplies and parts extend beyond three months.
"Sentiment is negative as investors are concerned about the impact of the coronavirus on global growth," said Anita Gandhi, a Mumbai-based investment adviser at Arihant Capital Markets. "It will take some time to gauge the impact on us but most of the China-export-dependent Indian companies could see pressure."
All 19 sector indexes compiled by BSE Ltd. fell, led by a gauge of metal companies that witnessed its biggest fall since August 2015
Housing Development Finance Corp. contributed the most to the Sensex decline, falling 3.3%, while Tata Steel Ltd.'s 6.4% drop was the steepest
Aurobindo Pharma Ltd. slumped 16%, the most in four months; a U.S. FDA inspection at its unit remains under review
Altico's Bidders Incl. SSG Capital, Cerberus Revise Offer: ECT