Chip Stocks Extend Worst Rout in Decade as Slowdown Fears Mount
(Bloomberg) -- This month's rout in semiconductor stocks is now on pace to be the worst in a decade after disappointing guidance from Texas Instruments Inc.
Texas Instruments, which has the largest number of customers and the broadest product range in the chip industry, warned that demand is slowing across many of its markets. That was bad news for investors who had already seen anxieties about a sales slowdown erase about 10 percent from the Philadelphia Semiconductor Index in October. The index fell another 2.3 percent at 9:52 a.m. in New York and is now on track for its biggest monthly decline since November 2008.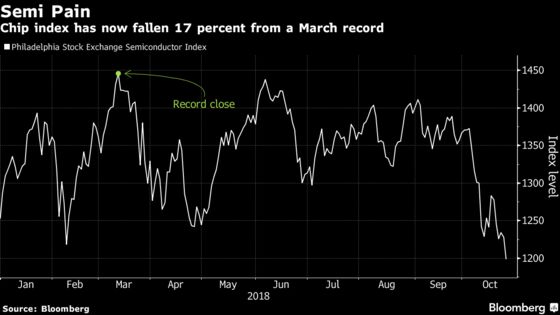 "We're heading into a softer market," Chief Financial Officer Rafael Lizardi said on the Texas Instruments earnings call. The company plans to respond by being disciplined in its operating plans and reduce wafer production to avoid oversupply.
Deteriorating bookings and an upturn in cancellations could pose a threat to semiconductor peers, as well, Susquehanna analyst Christopher Rolland wrote in a note. Rolland, who carries a positive rating on Texas Instruments, cites Maxim Integrated Products Inc, ON Semiconductor Corp., NXP Semiconductors, Cypress Semiconductor, Knowles and Microchip Technology Inc. among the chipmakers that "may fare worse."
Texas Instrument's "guidance bodes poorly for the group, particularly as their low lead-times and consignment programs were supposed to make them more cycle resistant than most," Rolland writes. "We worry for the lesser operators."
Texas Instruments fell as much as 7 percent Wednesday to its lowest intraday price in a year. MKS Instruments, which supplies gear used in semiconductor production, looked to add to the bad news with a fourth-quarter revenue forecast that missed the lowest analyst estimate. Shares of MKS tumbled as much as 7.5 percent before turning higher.
Last week, Taiwan Semiconductor Manufacturing Co., the world's largest contract manufacturer of chips, gave a disappointing revenue forecast.