Semiconductor Stocks Surge as Xilinx, AMD Defy Tech Stock Slump
(Bloomberg) -- Semiconductor stocks are rallying Thursday, brushing off the broad selloff in the technology sector, as investors applaud quarterly results from two industry heavyweights.
Shares of Xilinx Inc. are leading the pack, rising as much as 12 percent in their biggest intraday gain since January 2016 after the firm posted first-quarter revenue that topped expectations while boosting annual guidance. Advanced Micro Devices Inc. rose to the highest level in 11 years after reporting the best quarterly profit in seven years. Qualcomm Inc. is also climbing after posting earnings and scrapping its bid for chipmaker NXP Semiconductors NV.
"AMD reported 2Q18 results that we believe will further reinforce the positive investor sentiment on the company's competitive positioning to gain market share across both the client and enterprise markets," Wells Fargo & Co. analyst Aaron Rakers wrote in a note to clients.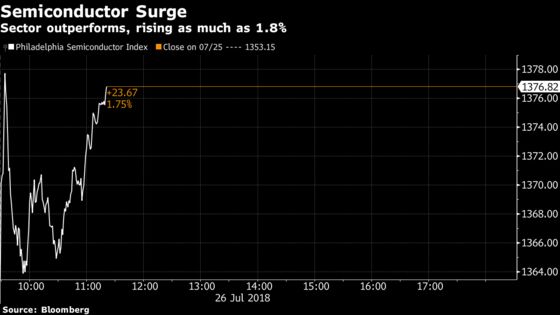 Rosy earnings are helping shield the semiconductor sector from a decline in tech stocks after Facebook Inc.'s quarterly revenue and user growth missed estimates, wiping around $120 billion from the firm's market value.
Investors sent trading volume through the roof for the $670 million VanEck Vectors Semiconductor ETF, known by its ticker SMH. Almost 7 million SMH shares changed hands as of 11:25 a.m. in New York, more than triple the 20-day average volume for this time of day.