Intel's Earnings Whiff Breaks Semiconductor Stock Momentum
(Bloomberg) -- Semiconductor stocks are falling again after a weak earnings report from Intel Corp., the world's second-biggest chipmaker, squelched Thursday's relief rally.
Rivals Advanced Micro Devices Inc. and Nvidia Corp. each fell more than two percent in extended trading after Intel's revenue forecast for the first quarter fell short of the lowest analyst estimate tracked by Bloomberg. Intel fell as much as 8 percent. An exchange-traded fund that tracks the Philadelphia Semiconductor Index sank 1.6 percent post-market.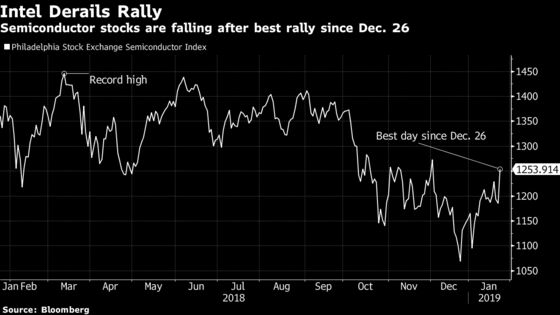 Intel's report came just minutes after the Philadelphia semiconductor index closed with its biggest gain in nearly a month. Thursday's 5.7 percent rally was sparked by optimism after better-than-expected results from Texas Instruments Inc., Xilinx Inc. and Lam Research Corp.
Western Digital Corp., a maker of hard drives and memory chips, stood out in post-market trading. Its shares reversed losses to rally as investors cheered its quarterly forecast. The stock gained as much as 9.5 percent after erasing earlier 6.6 percent decline. Micron, the biggest U.S. memory maker, gained 1.4 percent.