Semiconductor Stocks Fall as Goldman Sees More Pain on Tap
(Bloomberg) -- Semiconductor stocks fell on Tuesday as Goldman Sachs said the group may be in for another rough year amid elevated inventories and waning customer demand.
The troubles could be particularly acute in the first half of the year with chip unit shipments tracking above the long-term average, elevated inventories and room for Wall Street to reduce expectations, analyst Toshiya Hari wrote in a note. The Philadelphia Semiconductor Index fell as much as 1.7 percent.
"We believe the sector's underperformance is likely to continue as the industry spends the next few quarters adjusting supply to the deteriorating demand backdrop," said Hari.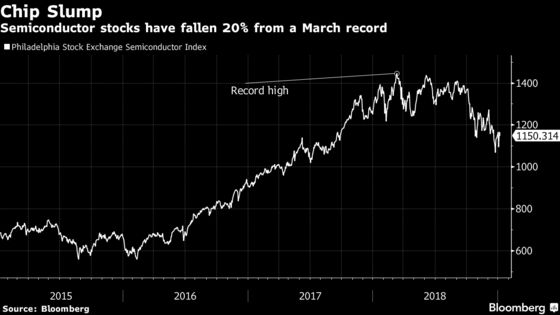 Deteriorating demand for semiconductors and a slump in the market for memory chips helped send the Philadelphia semiconductor index down 7.8 percent in 2018, its worst year since 2011. Equipment makers such as Applied Materials Inc. and Lam Research Corp. were among the worst performers as chipmakers reduced capital spending.
Equipment makers are the best positioned semiconductor group given that the magnitude of the declines "seem to be pricing in a downturn that is significantly worse" than Wall Street estimates, said Hari. He said he's waiting for more spending cuts, particularly from memory chipmakers, and "capitulation" from industry executives to get more bullish.
In the latest sign of weakness in the semiconductor industry, Samsung Electronics missed quarterly profit and revenue estimates on slumping demand for memory chips. That followed the revenue forecast cut by Apple last week, its first in almost two decades.