Selling Toyotas to Congo a Way to Fight Burundi Dollar Snag
(Bloomberg) -- Dollars are hard to find in tiny, troubled Burundi -- but three nearby African nations and plenty of used Land Cruisers and Range Rovers offer some entrepreneurs a solution.
Buying vehicles from cash-strapped owners and selling them in Rwanda and the Democratic Republic of Congo is an increasingly popular ploy in the East African country, which is trying to emerge from three years of political upheaval. Along with cross-border sales of beverages, furniture and fittings, it's a way to beat foreign-currency shortages spurred by declines in investment and spats with Western donors.
"To continue my business, by hook or by crook I need to get dollars," says Ali Hassan, who sells two vehicles a week, making $1,000 profit a month and hard currency to buy spare parts from Dubai for his mechanic workshop. "Banks don't serve us, so I thought selling things like used cars could be a good deal."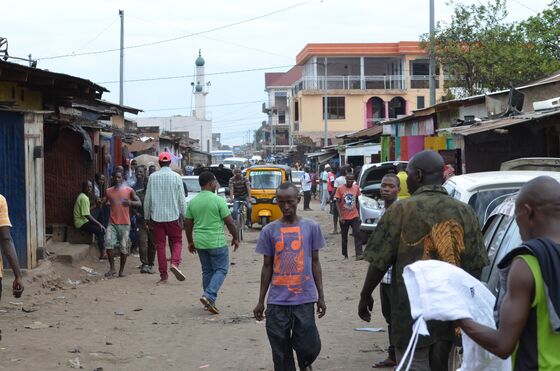 Such workarounds signal the difficulties still faced by Burundi, a landlocked nation of about 11 million people where violence sparked by a dispute over presidential terms that began in April 2015 has claimed hundreds of lives and forced thousands to flee, many to its other neighbor, Tanzania.
The economy, already the region's smallest, contracted 4 percent in 2015, according to the International Monetary Fund. Though the government is touting a coffee- and mining-led resurgence over the next decade, the IMF says 2018 growth may be just 0.1 percent.
The Brussels-based International Crisis Group warned in August that worsening unemployment and poverty "increase the likelihood of instability and exacerbate the risk of violence."
National radio reported Thursday that President Pierre Nkurunziza ordered the seizure of businesses that have been evading taxes, as authorities seek to collect 800 billion francs ($443 million) in revenue this year.
Central bank officials say currency shortages have stopped some foreign companies from repatriating profits. But they insist the situation will improve, with inflows that slowed when the European Union suspended direct aid to the government being replaced with the proceeds from rising coffee and tea output, and payments to Burundian troops serving with a peacekeeping mission in Somalia.
The bank's governor, Jean Ciza, has said Burundi needs to revive other types of agriculture, livestock-raising and manufacturing that produce exports while creating jobs.
In the meantime, people like Jeannette Nduwumusi, a shopkeeper in the capital, Bujumbura, have quickly become experts on the used-car markets in Burundi's neighbors. Rwanda, one of Africa's fastest-growing economies, has a taste for saloon cars, while buyers in the rugged, mineral-rich Congo need off-road-friendly vehicles such as Range Rovers and Toyota's Land Cruisers.
Nduwumusi and her husband trawl Facebook and WhatsApp groups to find vehicles for sale locally, buy in Burundian francs and drive them cross-border to sell where dollars are in greater supply. "We suffer because of political problems, but we are not ready to give up," she said of her business difficulties.
They're competing with Eric Nzisabira, whose car spare-parts business had ground to a halt by 2016, and who's also seeking automobile bargains. He says he took inspiration from his father, who sold items to Tanzania in the 1990s to overcome the economic effects of a regional embargo imposed on Burundi for a military coup during its civil war.
Cars are the big earners, but other Burundians have stepped up resales of locally made bottled beers and sodas or are offering household items.
Erica Karibwami sells beers and Coca-Cola in Congo, then uses the dollars to buy other goods from China or Dubai. "We prefer to see our banks serving us currencies," she said. "But that's not possible now, so I plan for myself."
Since 2016, Said Hassan has built a joinery business with sales of metal door- and window frames to Congo. Each cross-border sale gets him dollars he partly uses to import materials to build the next consignment.
"My income can be about $5,000, but I don't get that every month," he said.