A Self-Driving Fix for a Population Problem
(Bloomberg Opinion) -- This week, SoftBank Group Corp.'s Vision Fund invested nearly $1 billion in California-based autonomous delivery vehicle company Nuro. Nuro's small (and distinctive) vehicles are already delivering groceries in one Arizona ZIP code. Arizona's relatively friendly geography seems a sensible place to start. Should Nuro's robotic vehicles make their way to Asia, they'll find immensely different landscapes in scope, scale and opportunity.
The differences in Asian cities are obvious: narrow and circuitous streets in places like Hong Kong and Tokyo, growing vehicle fleets (almost) everywhere, and more and more humans packing into already huge cities. China is the world's largest auto market, and even in wealthy Hong Kong, the number of vehicles per 1,000 people has increased by nearly 50 percent in the past 15 years. Singapore is different: Its vehicle fleet has grown considerably in absolute terms, though it has declined in relative terms since the mid-2000s.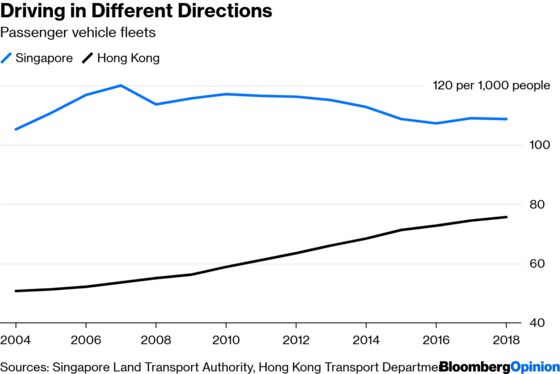 One consequence of these growing fleets, of course, is congestion, even in a city as actively managed as Singapore. Singapore is the 14th-most congested city in the world, according to a recent study. Drivers spent 105 hours in congestion last year.
It's important to note, though, for Nuro and other companies that plan to offer similar delivery services, that Singapore's inner-city traffic speed is only 15 miles per hour. Rather than needing vehicles designed for every speed from a crawl to a highway commute, these cities can and should deploy only smaller, lighter-weight vehicles designed to operate at low speeds for lots of human engagement as people retrieve their deliveries.
There's another element to consider, too: demographics. In the 1950s, South Korea, Singapore, China and Hong Kong all had a fertility rate of five children or more. Now, all of them, including Japan, have a rate significantly below the replacement level of 2.1 (and Hong Kong bottomed out in 2003 before recovering slightly).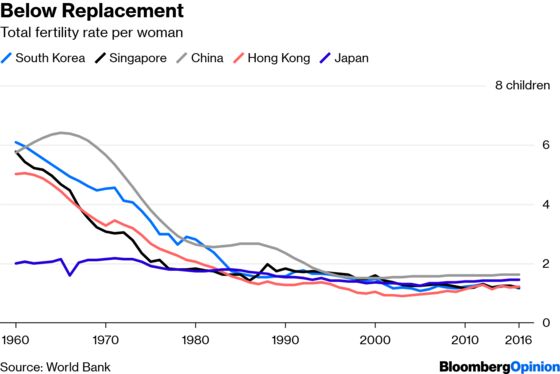 There is a healthy, and necessary, debate to be had about automation's impact on labor markets. But if these trends continue — and if there isn't an expansion of the working-age population or immigration to counteract an inherently shrinking workforce — robots on the streets may become not just convenient, but also essential.
This column does not necessarily reflect the opinion of the editorial board or Bloomberg LP and its owners.
Nathaniel Bullard is a BloombergNEF energy analyst, covering technology and business model innovation and system-wide resource transitions.