Security Becomes Muddy Battleground in Israel's Election
(Bloomberg) -- Security has long been Benjamin Netanyahu's election trump card. In Israel's April 9 race, however, the prime minister faces a former military chief who can neutralize his claims to be Mr. Security -- so he's declared war on Benny Gantz's 38-year record of service.
A paid social media post he's promoted online falsely claims Gantz left a wounded Druze border policeman "to die" during a clash with Palestinians in the West Bank. He's lashed out at Gantz for putting infantry soldiers in harm's way to protect Palestinian civilians in one episode during the 2014 Gaza Strip war. One Facebook post shows Gantz, then retired from the military, at a Jewish-Arab concert for Gaza war casualties with the tagline, "Gantz. Left. Weak."
Gantz apparently had had enough of Netanyahu's bad-mouthing and took the gloves off Tuesday night.
The general, who was appointed Israel's top soldier by the prime minister's own cabinet, launched a scathing attack on Netanyahu, a former commando who participated in the retaking of a hijacked Sabena flight in 1972.
"When I lay in muddy foxholes with my soldiers on frozen winter nights, you, Benjamin Netanyahu, left Israel to improve your English and practice it at luxurious cocktail parties," he told a crowd of supporters. "On the days when I commanded the Shaldag combat unit in life-threatening operations on enemy soil, you, Benjamin Netanyahu, worked your way bravely and determinedly between makeup sessions in television studios.
The final blow: "And during the many nights of tension and stress when I fell asleep for only a brief nap wearing my uniform and boots, you, Benjamin Netanyahu, met with some of the world's most respected business suit designers in fitting rooms, and then returned safely to your prestigious hotel."
Netanyahu wasn't left wanting.
"Shame on you, Benny Gantz," he said in a video posted on social media, in which he detailed his own battlefield achievements. "I commanded many operations behind enemy lines, I was wounded in an operation to free people hijacked on the Sabena plane, and almost lost my life in a shootout at the Suez Canal."
His own final blow sought to paint the career soldier as a reckless gambler with Israel's security, saying Gantz supports unilateral territorial withdrawals and the 2015 multipower nuclear accord with Iran: "I risked my life time after time for our country, which you are willing to endanger in unilateral withdrawals and your support for the dangerous deal with Iran."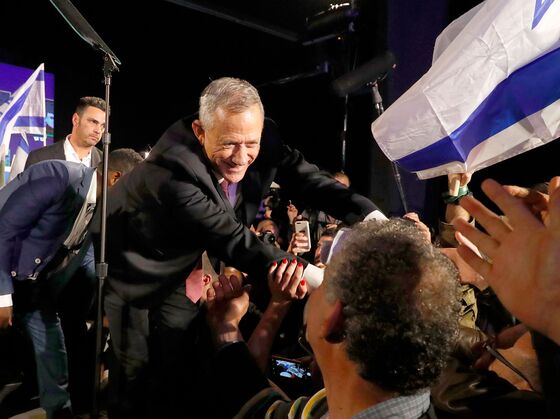 Gantz's positions are more nuanced: He doesn't support the Iran deal, but says in the absence of anything better, Israel should look at its positive aspects, namely, certain restrictions on Iran's nuclear activity. He says Israel's 2005 Gaza Strip pullout was carried out at the order of the Israeli government but that he wouldn't undertake any unilateral withdrawals.
But as a commentary in the Yediot Ahronot daily put it, "When at war, be at war."