Secret Summit in Starbucks Hometown Began Coke's Costa Pursuit
(Bloomberg) -- A secretive summit in Seattle began Coca-Cola Co.'s whirlwind pursuit of Costa coffee.
The U.S. beverage giant's Chief Executive Officer James Quincey first spoke to his counterpart at Costa's British parent company in May about adding coffee to the soda pioneer's lineup, according to people familiar with the matter.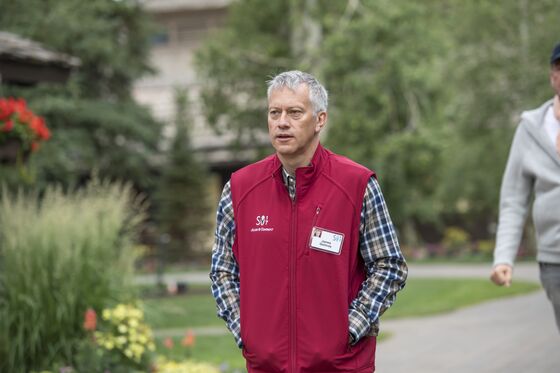 Quincey and Alison Brittain, who heads up Whitbread Plc, were at the Microsoft CEO Summit, an exclusive meeting of business leaders. Held in the tech giant's hometown, the city just happens to be the headquarters of Costa's largest rival Starbucks Corp.
This account of how the approach, which culminated on Friday with the companies announcing a transaction eight minutes after signing on the dotted line, is based on public statements and interviews with people familiar with the discussions.
"We just had an absolutely stonking deal that we needed to announce," Brittain told analysts, using a British colloquialism for impressive. Negotiations had been under way for months, she said.
Quincey, who'd been weighing an expansion into java since he took over last year, had spent the better part of a year studying the industry before zeroing in on Costa, a business that will give it instant heft in the coffee industry, with 3,800 stores in 32 countries and a foothold in China.
A takeover proposal followed in June amid negotiations that were handled -- for the most part -- by the two CEOs, fellow Britons who grew up in the country and share a similar sense of humor. Coke eventually hired advisers from Rothschild & Co., while Goldman Sachs Group Inc. led the team for Whitbread alongside Morgan Stanley and Deutsche Bank AG.
During the talks, advisers on both sides referred to the companies by different codenames including: White for Whitbread, Crimson for Coke, Citrine and Del Sol for Costa, a play on the name of the Spanish coastal region.
Quincey, keenly aware that Nestle SA, JAB Holding Co. and Starbucks Corp. may also be interested in Costa, stipulated that a potential deal be hammered out in bilateral talks, rather than in an auction involving rival suitors.
A representative for Whitbread declined to comment on the negotiations. The two executives did attend the conference, and negotiations began "a few months ago," a Coca-Cola spokesman said, declining to comment on other behind-the-scenes specifics.
Coke's initial offer was deemed too low leading to negotiations on price. Ultimately, the scale and strategic rationale of what the U.S. behemoth offered -- as Costa continued to attract takeover interest from potential private equity bidders and companies -- won over Whitbread's managers, who had been preparing to spin off Costa.
"We have been very clear that we wouldn't enter into a sale unless it was a strategic opportunity for the company," Brittain told analysts. "This is a deal which allows for all good things to come through."
A formal accord was sewn up in five weeks -- aided in part by the work Whitbread had already done to separate the Costa business.
Billionaire Paul Singer's Elliott Management Corp., an activist investor that had been in favor of Whitbread splitting Costa from its Premier Inn hotels, wasn't involved in the deal, Brittain told reporters. "I imagine that they might have been surprised along with everybody else this morning."
Elliott, in a rare moment of praise, issued a statement that it "congratulates" the board for the proposed transaction.
Whitbread's board plans to recommend that shareholders accept the deal in a vote in mid-October, though it will consider any competing offers made before that date. The strength of the accord with Coke has garnered the board's unanimous support, Brittain said. The deal could be completed in the first half of next year, she forecast.
"It's been a very fast transaction," she said. "I'm feeling quite chipper this morning."