Second Cathie Wood ETF Buys Komatsu, Lifts Machine Maker's Stock
(Bloomberg) -- Komatsu Ltd. rose the most in almost eight months as a second of Cathie Wood's exchange-traded funds started buying the construction machinery maker's stock. 
Japan's Komatsu, a machinery bellwether, rose as much as 5.7%, the most since Jan. 7. Wood's Ark Autonomous Technology and Robotics ETF (ARKQ) has bought Komatsu's American depository receipts in most trading sessions since August 17, a pattern that continued on Tuesday. 
A separate Wood ETF, the Ark Space Exploration and Innovation ETF (ARKX), also bought Komatsu on Tuesday for the first time since at least May, according to the latest trading update from Ark Investment Management. 
"It helps to have such a big fund buy -- it does give support to investor sentiment," said Hiroyasu Nishikawa, an analyst at Iwai Cosmo Securities Co. "It's possible that Cathie Wood's fund is buying Komatsu for its autonomous machinery and its information and communications technology on the back of space exploration-theme."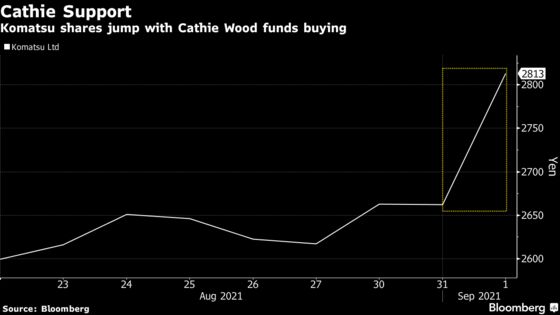 A Komatsu spokesperson declined to comment. Despite Wednesday's gains, its shares are down almost 20% from its year-to-date peak in March. The impending U.S. infrastructure bill should also help give support to the firm's already very cheap shares, Nishikawa said.