Tesla Shortsellers Made $1.3 Billion in Under a Day
(Bloomberg) -- Tesla's 12 percent drop handed short-sellers almost $1.3 billion in mark-to-market gains on Friday.
The stock rout wiped out short sellers' losses on Tesla for the year and pushed their gains in 2018 to $643 million, according to data compiled by S3 Partners, a financial technology and analytics firm. Shorts are up $3.6 billion in mark-to-market profits since Aug. 8, the day after Chief Executive Officer Elon Musk's go-private tweet.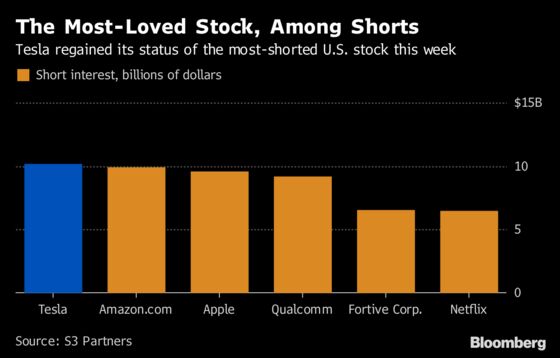 The biggest intraday drop in shares since 2015 comes after the Securities and Exchange Commission sued Musk for misleading investors in saying that he had secured the funding to take his company private. On Tuesday, two days before the SEC lawsuit, Tesla regained its status as the most-shorted stock in the U.S. The stock's short interest stands at $10.2 billion, data compiled by S3 Partners show, the most among about 7,000 publicly-traded companies in the U.S.