Seattle Police Chief Resigns After City Council Cuts Funding
(Bloomberg) -- Seattle's first Black female police chief is stepping down after the city council voted over her objections to cut the department's budget and eliminate as many as 100 officers from the force in response to protests against police brutality.
The council's decision, which was also criticized by Mayor Jenny Durkan, marks one of the highest profile clashes in the nationwide movement to defund police departments following the killing of George Floyd, a Black man, by a white police officer in Minneapolis. New York, Los Angeles and Oakland, California have also cut their budgets, seeking to shift money to programs that would improve their Black communities.
The push in Seattle drew opposition from Police Chief Carmen Best, who decided to retire instead of laying off police officers and implementing large-scale changes. She argued that there was no adequate plan in place for keeping the city safe and said the council's decision would undermine efforts to make the police force more diverse by forcing layoffs of the youngest and most-recently hired officers.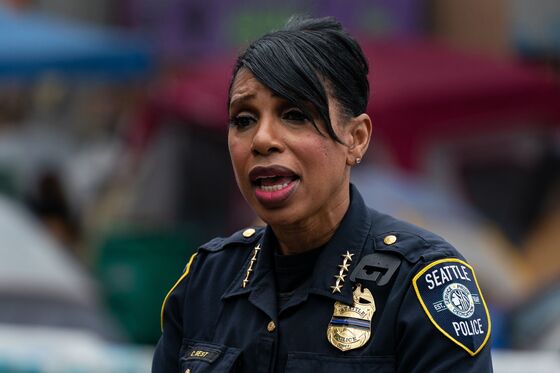 Deputy Chief Adrian Diaz will replace Best on an interim basis beginning in September. The city will not conduct a search for a replacement until 2021, Durkan said at a Tuesday press conference.
Best felt the council's actions were personal, noting that they did not cut the salary of other department heads, and made it impossible for her to continue in the post. Durkan slammed the council during her remarks at a Tuesday briefing announcing the chief's departure.
"It was both infuriating and deeply disappointing that the day after the chief stood in this room and criticized the council's approach, offered her own approach and vision, the very next day they voted to slash her salary and the salaries of her whole team," Durkan said.
Seattle has been a highly visible battleground in the nationwide anti-police brutality movement galvanized by outrage over video of Floyd's death and stoked by the deaths of other Black people in police custody.
At the height of the demonstrations, hundreds of protesters in Seattle took control of a six-block zone in the city, dubbing it the Capitol Hill Organized Protest. Best's department clashed with protesters and used chemical irritants and impact munitions on the demonstrators.
The council responded to the public pressure Monday by cutting nearly $4 million from this year's roughly $400 million budget and reducing officer headcount through layoffs and attrition. The package will cut the chief's salary for this year by $10,000 to $275,000, a move that Durkan panned as illegal and unenforceable. The council had originally proposed a $100,000 cut. It also moved to cut the salaries of her deputies.
The city will also appropriate $17 million to community-led public safety initiatives. Best and Durkan argued those reductions would jeopardize public safety and reduce the diversity of the police force.
The cuts came as part of a broader budget revamp due to shortfalls caused by the Covid-19 pandemic.
Seattle's decision to reduce police and fund community safety programs comes as other cities have done the same, sometimes despite concerns that doing so will lead to an increase in crime.
In New York City, Mayor Bill de Blasio moved $1 billion from his city's massive police force to social programs. Los Angeles also cut $150 million from its department to reinvest, along with an additional $100 million, into the Black community. Smaller cities, like Washington D.C. and Oakland, California have also cut police funding, reducing police allocations by $10 million and $14 million, respectively.
Seattle's cuts may only be the first round. Calls to defund are likely to continue as the city prepares its budget for the next fiscal year in the fall. Council member Kshama Sawant, the sole vote against the budget, said she wants to go even further.
"With my 'no' vote today, I affirm our movement's unchanging demands: Defund SPD by at least 50% and tax big business and the rich, not working people, because we can't pay and we won't pay for this crisis – this crisis of the racist and bankrupt system of capitalism."