Scotiabank Makes Caribbean Retreat After Latam Push Pays Off
(Bloomberg) -- Bank of Nova Scotia's push into Latin America helped fuel record earnings from international banking in the fourth quarter. It's making a retreat in some countries nevertheless.
The bank is selling operations in nine nations in the Caribbean -- a region where it's done business for 129 years.
"Exiting these non-core operations is consistent with a strategy that began five years ago to sharpen our focus, increase scale in core geographies and businesses, improve earnings quality and reduce risk," Chief Executive Officer Brian Porter said Tuesday on a conference call.
Scotiabank has been focusing its international expansion on four Latin American countries -- Mexico, Colombia, Peru and Chile. That paid off in the fiscal fourth quarter, with the international-banking division posting record earnings and the biggest profit gain among the Toronto-based lender's three main segments.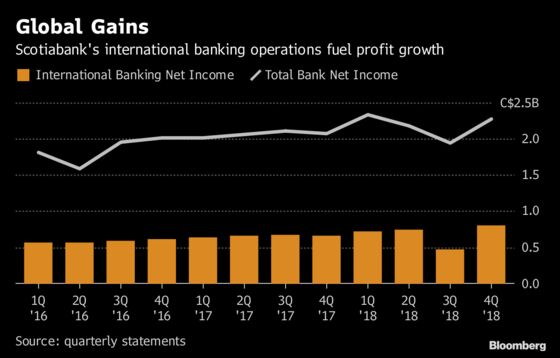 Earnings from international banking rose 22 percent, its biggest jump in three years, thanks in part to contributions from Chilean lender BBVA Chile, which it acquired this year. That growth exceeded the 4.5 percent profit gain from Canadian banking from a year earlier and the 6.4 percent jump in the global banking and markets division.
The Caribbean pullback isn't a full retreat: The bank has operations in a dozen other Caribbean markets and expects to finalize a takeover in the first quarter for Banco Dominicano del Progreso SA in the Dominican Republic. Scotiabank has more than 7,700 employees across the Caribbean and 1.5 million customers.
"We expect to remain in our core markets across the Caribbean," Porter said.
The bank agreed to sell its operations in Anguilla, Antigua, Dominica, Grenada, Guyana, St. Kitts & Nevis, St. Lucia, St. Maarten, St. Vincent & the Grenadines to Republic Financial Holdings Ltd. Terms weren't disclosed. It's also selling its life insurance operations in Jamaica and Trinidad & Tobago to Sagicor Financial Corp.
Porter has been targeting Mexico, Peru, Colombia and Chile as priority areas over the past six years. His C$2.9 billion ($2.2 billion) purchase of Banco Bilbao Vizcaya Argentaria SA's 68 percent stake in a Chilean lender, which closed in July, can be credited for part of those international-banking gains.
The global footprint isn't without risks. While the outlook is positive in Chile, Mexico is generating investor concerns about the business climate under the new Obrador government," National Bank Financial analyst Gabriel Dechaine said in a Nov. 19 note.
Scotiabank's busiest year for takeovers isn't finished yet. The bank is waiting to complete its C$130 million purchase of 51 percent of Peruvian consumer lender Banco Cencosud SA and Banco Dominicano del Progreso SA. The buying spree also included C$3.54 billion for Canadian money managers Jarislowsky Fraser and MD Financial Management, as well as acquiring Colombian businesses from Citigroup Inc.
The company now gets 32 percent of annual earnings from outside its home country.
Scotiabank shares fell 0.2 percent at 10:42 a.m. in Toronto. The bank has been the worst performer among Canada's six-largest lenders this year, with its stock falling 14 percent compared with the 7.1 percent decline of the eight-company S&P/TSX Commercial Banks Index.
Scotiabank is the first big Canadian bank to report quarterly results. The six lenders are expected to increase adjusted per-share earnings by 10 percent from a year earlier, the median of analysts' estimates compiled by Bloomberg Intelligence. Royal Bank of Canada, Canadian Imperial Bank of Commerce and Toronto-Dominion Bank report later this week.
Net income for the period ended Oct. 31 rose 9.7 percent to C$2.27 billion, or C$1.71 a share, from C$2.07 billion, or C$1.64, a year earlier. Adjusted earnings, which exclude some items, were C$1.77 a share, missing the C$1.78-a-share estimate of 12 analysts surveyed by Bloomberg.
Read the quarterly statement here.