Scotiabank and Bank of Montreal Profit From Doing More With Less
(Bloomberg) -- Bank of Nova Scotia and Bank of Montreal have made strides in their push to do more with less.
Both Toronto-based banks boosted efficiencies in the fiscal third quarter, bringing them a step closer to financial goals set by their respective chief executive officers. Scotiabank's productivity ratio -- or expenses as a percentage of revenue -- fell to 52.5 percent in the quarter from 52.8 percent three months earlier, second-best among Canadian banks. Bank of Montreal's efficiency ratio fell to 58.2 percent from 63.4 percent in the second quarter, when the lender had higher severance costs from restructuring.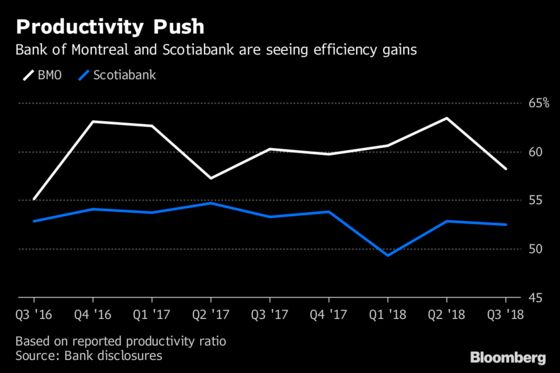 Canada's banks have been investing in technology to help bring down costs in other areas as consumers shift from banking in branches to doing more transactions online and on mobile devices. The shift is happening as banks face an industrywide slowdown in domestic mortgages and other consumer lending, adding to the challenge of increasing revenue.
"We spent over C$3.1 billion ($2.4 billion) on technology last year. The number this year will be even higher than that," Scotiabank CEO Brian Porter said Tuesday in a YouTube video discussing earnings. "That's really important -- to digitize the bank, make it easier for our employees to service our customer base -- and with that should come the benefit of lower costs."
Scotiabank accelerated efforts to improve productivity since undertaking a restructuring and digital banking initiative in May 2016, with a goal of improving its productivity ratio by 200 to 250 basis points by 2019. Further digital banking efforts prompted Scotiabank nine months later to set an overall productivity goal of about 50 percent for 2021. The firm uses this as a measure of efficiency, with a lower ratio indicating improved productivity.
Bank of Montreal CEO Darryl White vowed at the company's annual investor meeting in April to speed up efficiency improvements by simplifying the bank's structure, calling it a "top priority." He expects to achieve a target of 2 percent adjusted net operating leverage -- a key measure of efficiency -- this year, from the current quarter's 2.9 percent.
Bank of Montreal shares rose 0.2 percent to C$106.40 at 10:03 a.m. in Toronto after posting quarterly results that beat analysts' estimates. Scotiabank fell 1.6 percent to C$77.04 as earnings missed estimates by one cent.
Royal Bank of Canada had an efficiency ratio of 53.1 percent in the quarter, while Canadian Imperial Bank of Commerce's ratio was 56.6 percent. Both reported earnings last week. National Bank of Canada, the Montreal-based lender that reports results Wednesday, had an efficiency ratio of 54.3 percent in the second quarter, while last period's figure for Toronto-Dominion Bank, which reports earnings Thursday, was 50.9 percent.
Here's a summary of both banks' quarterly results:
Bank of Montreal net income rose 11 percent to C$1.54 billion, or $C2.31 a share, from a year earlier, while adjusted per-share earnings of C$2.36 exceeded the C$2.25 average estimate of 14 analysts surveyed by Bloomberg. Scotiabank said net income fell 7.8 percent to C$1.94 billion, or C$1.55 a share, with adjusted earnings of C$1.76 per share falling short of analysts' estimates by one cent.
Revenue rose 6.6 percent to C$5.82 billion at Bank of Montreal and non-interest expenses climbed 3 percent to C$3.39 billion.
Canadian banking profit was C$642 million, up 4.7 percent from a year earlier, while U.S. banking rose 36 percent to a record C$364 million, aided by lower provisions and U.S. tax reform. Earnings from wealth management increased 8.2 percent to C$291 million and BMO Capital Markets profit climbed 7.1 percent to C$301 million.
Revenue climbed 4.2 percent to C$7.18 billion at Scotiabank and non-interest expenses increased 2.7 percent to C$3.77 billion.
Scotiabank's Common Equity Tier 1 capital ratio fell to 11.4 percent, after taking into account acquisitions.
Scotiabank posted record Canadian banking profit, with net income rising 8 percent to C$1.13 billion from a year ago. Earnings from international banking fell 29 percent to C$475 million, after costs tied to acquisitions. Profit from global banking and markets was unchanged at C$441 million.