Scorching Start to August Set to Test Europe's Power System
(Bloomberg) -- After record-breaking heat in July in some parts of Europe, August is forecast to start with scorching temperatures that could impact power generation in the region's biggest markets.
Temperatures could rise as high as 40 degrees Celsius (104 Fahrenheit) in the south of France from Friday while Iberia could be hot enough to break records, according to The Weather Co. Electricite de France SA has already had to reduce output at two of its nuclear plants this week because cooling water drawn from adjacent rivers is too warm to use while power plants in Germany and Sweden have also been impacted by the hot weather.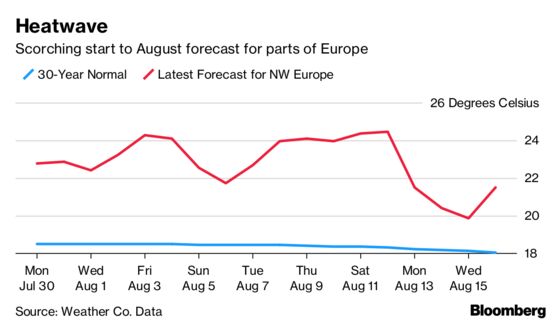 French power prices "tend to rally a lot with hot spells because it affects demand and also supply because the efficiency of the nukes is affected" Giacomo Masato, an analyst and meteorologist at Marex Spectron in London. To get a sustained rally there will need to be "Two or three continuous weeks of significantly above average temperatures."
French and German day-ahead wholesale power rates are already at the highest for the time of year for a decade. France gets more than 70 percent of its power from 58 atomic stations and is a net exporter of electricity to neighboring countries, so any reductions in output will boost prices across the continent. In Germany, Europe's biggest power market, local authorities have agreed to let utility EnBW AG flaunt river temperature limits to keep about 6 gigawatts of capacity at full power.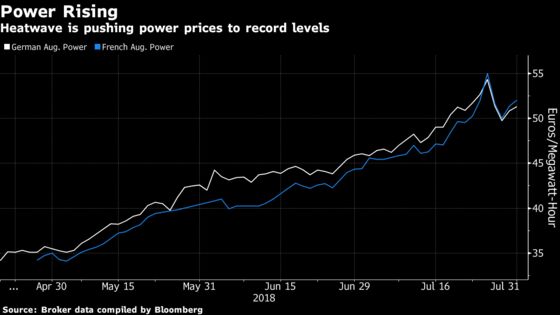 In Sweden, an oil-fired backup plant in Karlshamn, normally used only on the coldest days of the winter, has been put on standby to ensure there is sufficient capacity as wildfires restrict grid capacity and warm water temperatures crimp nuclear output. On Monday Vattenfall AB closed its Ringhals-2 reactor and another three Swedish nuclear units are at risk of closing if sea water temperatures keep rising.
Low wind generation isn't helping as Europe's heatwave is leaving wind turbines virtually at a standstill. Wind provided 6.2 percent of Europe's energy demand yesterday, according to data from the Wind Europe lobby group. The outlook for next week is mostly low levels in the U.K., Germany, Spain and Denmark, according to The Weather Co.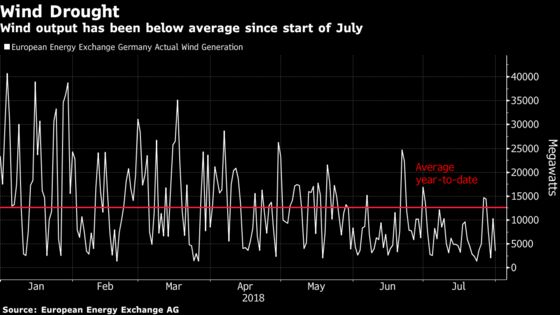 The high pressure weather front acts as a wall stopping the wind from blowing in from the Atlantic, Masato said. If the high pressure moves over France in the middle of August, it will continue to block wind to Germany and would be bullish for prices, he said. But this isn't certain yet.
Natural gas prices are also rising as the heatwave spurred fears that lower-than-normal gas storage levels are unlikely to be filled in time for next winter. Pipeline capacity and maintenance will curb the ability of Europe's storage sites to reach near capacity before the next heating season begins, according to Bloomberg New Energy Finance.
July temperatures are likely to have been record-breaking in Sweden, Norway, Finland, Denmark, Netherlands, Switzerland and Germany, said Joe D'Aleo, chief meteorologist at WeatherBell Analystics LLC. For Europe, it was the third hottest among records dating back to 1981, according to Radiant Solutions.
Drought conditions will persist in Germany, south Britain, Denmark, the Netherlands and Scandinavia in August, D'Aleo said. Some parts of southeast Britain recorded no rainfall between mid-June and 27th July, with none since late May in others, according to MeteoGroup U.K. Ltd.
The hottest conditions are expected through the first 10 days of August before much above normal temperatures diminish toward mid-August. Despite weakening, a steady warm pattern is projected to continue into the second half of the month across western Europe: Rebecca Fuller, meteorologist at Radiant Solutions
Heatwave conditions will not be a feature of the weather after the first few days of August: The Weather Co.
Intense heat will build over Spain and Portugal in August with maximum temperatures in the mid-40 degrees Celsius. Spain and Portugal could see their hottest day temperature records broken (47.3C and 47.4C respectively): Matt Dobson, energy meteorologist at MeteoGroup

River temperatures in France expected to rise further and threaten nuclear power plant operations