Blackstone's Schwarzman Expects a 'Reasonably Good' 2019 Despite Trade Wars
(Bloomberg) -- Blackstone Group LP's Steve Schwarzman isn't letting trade wars and the collapse of oil prices smudge his mostly upbeat outlook for next year.
"Nobody ever knows what next year will be, but consumer confidence is really high and business confidence is high," the firm's chief executive said at a Goldman Sachs Group Inc.'s conference Tuesday. He added that economic growth could be around 3 percent in 2019. "People forget that for eight years we averaged 1.8 percent, and we kept being told that was good."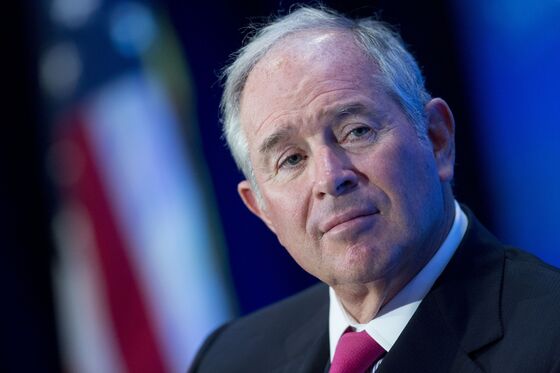 Schwarzman said at the bank's U.S. Financial Services Conference that he doesn't see rising interest rates as a big risk to the economy. While trade negotiations with China over issues like intellectual property could go awry, leading to significant dislocation, he added that political leaders are trying to avoid such outcomes. The Blackstone CEO also dismissed concerns over the boom in private credit, saying his firm is currently just as conservative with loan covenants as it has been in the past few years.
"You just have to be a little pickier as to what you do in terms of volumes," he said. "But there's still a really good flow of stuff -- we do it here, we do it in Europe."
Here are other highlights from the interview:
After markets fall, as they have recently, there's a period of adjustment before owners decide to sell, so buyers like private equity firms have to be patient. The next time prices rise a bit, it will create a lot of buying opportunities. "We will have valuation shifts," he said.
The CEO also sees potential opportunities in energy after oil prices dropped from too much supply. When it tightens, he sees oil prices stabilizing around $50. "For us, with these kinds of levels, it's a much better play," he said.
The Trump administration is much more open than previous administrations to allowing regular people to invest their retirement accounts in private-equity products, which today are reserved for the wealthy. Schwarzman said keeping people away from Blackstone's products doesn't make sense. "I think that's going to have to get changed at some point," he said.
Blackstone, which brought in $24.1 billion in new capital last quarter, is benefiting from investors who seek the healthy returns of private equity firms. Blackstone expects to raise $18 billion for its biggest real estate fund ever, Bloomberg reported in September.
"We look forward to a reasonably good year, but a year with mid-to-upper single-digits for growth," Schwarzman said. "That kind of approach for companies."
New York-based Blackstone, which oversees about $457 billion, is the biggest alternative asset manager.