Schumer Sets Deadlines on Infrastructure and Budget Talks
(Bloomberg) -- Senate Majority Leader Chuck Schumer set a Wednesday deadline to wrap up talks on both the bipartisan infrastructure package and an agreement among all Democrats on moving forward on a budget resolution.
The New York Democrat's move puts pressure on Republicans to cut a deal quickly on the $579 billion infrastructure plan and on moderate Democrats to agree to the $3.5 trillion budget blueprint that is moving on a separate, parallel track. Schumer has to manage the tension between moderate Democrats who have led the push for the bipartisan package and the party's progressives, who don't want to move forward on an infrastructure bill without assurances that their priorities will be addressed in the bigger, Democrats-only budget package.
"The time has come to make progress. And we will," Schumer said Thursday on the Senate floor.
Schumer said he would take a crucial procedural step on Monday that would clear the way for an initial vote next Wednesday on the on the $579 billion infrastructure package. He also said he wants Senate Democrats to agree by Wednesday on moving forward with the budget resolution that will carry other major portions of President Joe Biden's agenda.
The move creates some political risk. Republicans don't want the two packages linked, and some Democrats are withholding support for the budget plan until more details are filled in. In addition, some GOP senators are balking at moving forward on the infrastructure plan without having legislation fully ready. Schumer would need 60 votes in the 50-50 Senate to proceed.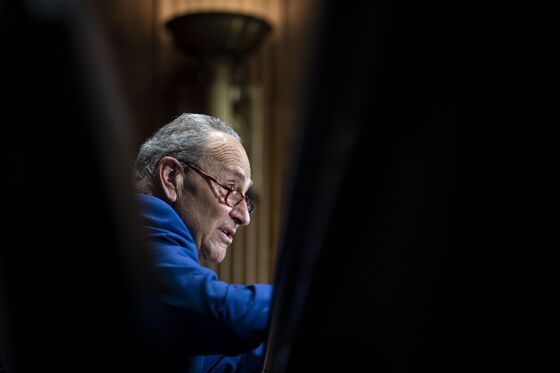 The group of Democratic and Republican senators working on the infrastructure bill were meeting Thursday in an attempt to finish negotiations and discuss Schumer's deadline
One of the final sticking points is how to pay for the package that includes money for public transit, repairs to roads and bridges, upgrades to water systems, expansion of broadband internet service and bolstering the power grid. Utah Senator Mitt Romney, a Republican member of the group, said there are disputes over the amount of revenue that can be generated by cracking down on wealth tax cheats and a provision to give the Internal Revenue Service more funds for enforcement may be dropped.
Senator Jon Tester of Montana, a moderate Democrat, said he thinks negotiators will reach an agreement on the infrastructure package. He and Democratic Senator Joe Manchin of West Virginia, both of whom are part of the bipartisan group negotiating the infrastructure package, said they support Schumer setting the deadline.
"I am OK with getting this ball rolling otherwise we will be talking about this next year," Manchin said.
But Romney said he would vote against the procedural motion if the bill isn't finished.
"I think there is a lot of drafting that has to be done and there are a lot of outstanding issues that still have to be resolved," he said. "We'll move quickly but we're not gonna vote on something until we have a bill."